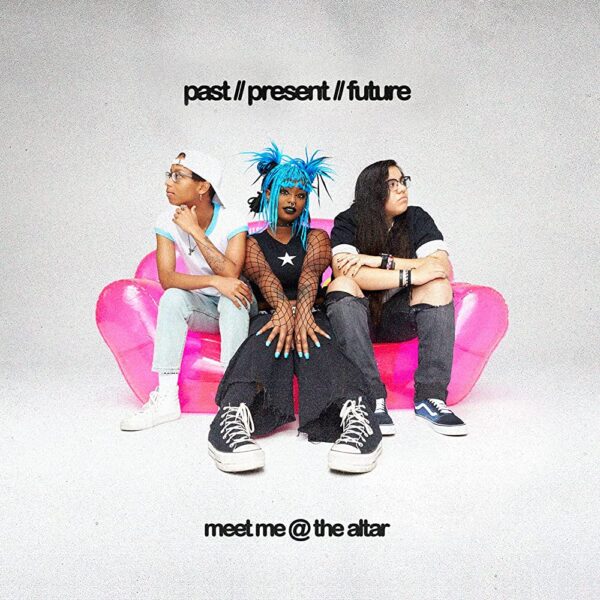 Meet Me @ The Altar
Past // Present // Future LP
Bursting forth with the high energy of 'Say It To My Face', the hugely anticipated pop-punk debut from Meet Me @ The Altar, Past // Present // Future, is finally here. We unpack the sounds and textures of the album and try to present it professionally, not as excited Altarites.
The Songs of Past // Present // Future
Once the opening anthem has addressed the detractors, we land in 'Try', which has some great switches. Following the full-tilt intro, the verse alternates two acoustic bars with a two-bar rising motif. There's then a great half-beat pre-chorus. The chorus echoes the intro, fast and hooky.
'Kool' has guitar stabs like Alkaline Trio. The first verse is built on this guitar and the vocal, thickening up and adding full-on chucking as it stomps into life. The song isn't rigidly structured. It's more about that build… and it's all over in about two minutes.
Another anthem arrives with 'T.M.I.' – full-throttle guitars power the song and a big chorus delivers a punchy focus. The second verse has a nice ebb and flow between instruments, contrasting with that full chorus sound. There's also a melodic solo slapped right before the middle eight.
'Same Language' is a great track that pops and bounces wonderfully. This track rewards those with a decent stereo set-up (hello, kid in Wisconsin).
The mid-album chill comes from 'A Few Tomorrows', which is a Foals-tinged pop song that gives us all a breather without actually slowing things down a whole lot.
The guitar motif of 'Need Me' shines because the punchy bass makes it pop. This song is classic MMATA, with interesting rhythmic bursts in the verse and a shimmering emo chorus. The 'you don't need me, I don't need you' chorus has perfect bittersweet vibes.
At track eight, you'd normally be descending from the great stuff to the merely good, but this album is ready to concede and confidently slams down 'It's Over For Me', which has just enough teeth to be a great bad breakup song.
We're still high with 'Thx 4 Nothin', a song that has the flavour of Paramore's eponymous album and 'Rocket Science' brings us towards the end in style in a similar style.
It closes on 'King of Everything'. There is no doubt that this is an epic sonic blast, with an immense chorus exploding from a riffy base. An album this good should finish with a twist, which this song certainly provides.
The Sound of Past // Present // Future
There's a connection to recent collab-era pop-punk, such as Avril Lavigne, MGK, and Willow – but mixed with a generous splash of easycore, riot-anthem Paramore sensibility, and more than a few moments that hark back to The DumDums.
The key differences comparing Past // Present // Future to Model Citizen are a switch in the drumming style, a more restrained use of the bass drum that brings more groove and less use of the stuttered chop. You'd only notice this if you were searching hard for differences, but you might notice there's more fluidity and pace on this record.
I have high confidence that MMATA fans will utterly adore this album.
Watch Meet Me @ The Altar – TMI.
Discover More Music