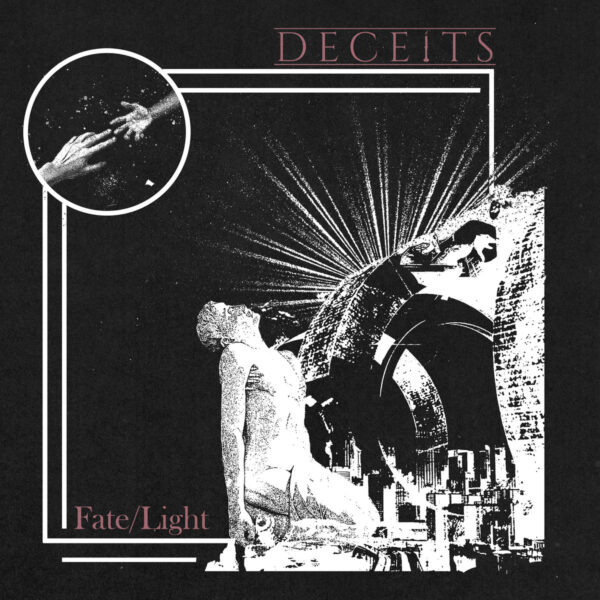 Deceits
Fate/Light
While many bands like to proclaim they sound like nothing else, Deceits have the integrity to not only say they are influenced by The Cure, but give us the era of 1980-1982 specifically (AKA, Simon Gallup's first-shift).
This is evident in all three songs on this recording. 'Fate' springs into life and builds through several bars into a wonderful dream pop song. It has the post-punk style where the drums issue a frantic sixteen-beat and the bass anchors the song. The keyboard/guitar interaction is highly successful.
'Guiding Light' starts with the guitar and bass, the drums and keyboard soon join and we're in another solid offering. The chorus stands out on this track and the emotive vocal hits the right plaintive zone to complete the atmosphere.
The demo mix of 'Guiding Light' is scratchy round the edges and has a different vocal treatment. I'm left without an answer to which mix is best – I guess this sounds like the version from The Top, as opposed to the Pornography studio version. I couldn't decide whether I preferred the studio version or the live versions of The Cure's work either.
Thematically, 'Fate' is a bitterwseet romance and 'Guiding Light' searches for hope amoungst the gloom. If I ever get to sell those movie rights for my Gothic Novel, this is a band that need a place on the soundtrack, alongside Salem, Die So Fluid, The Nightmares, and Imbolg – though perhaps Candi Carepenter gets the end credits.
Yes, this is a love letter to The Cure, but the songs are Deceits-enough to stand on their own. The Cure won't produce another record that sounds like this in the same way there won't be another Dookie from Greenday or an Enema of the State from Blink-182. Deceits have backed up to an old junction and will follow their own path forwards.
I love what Deceits have done on this record and I can't wait to hear more.
Watch the Deceits – 'Guiding Light' lyric video.
Written by Fenton on
Steve Fenton writes in our music, words, and culture categories. He was Editor in Chief for The Mag and covered live music for DV8 Magazine and Spill Magazine. He was often found in venues throughout the UK alongside ace-photographer, Mark Holloway. Steve is also a
technical writer and programmer
and writes
gothic fiction
. Steve studied Psychology at OSC, and Anarchy in the UK: A History of Punk from 1976-1978 at the University of Reading.
Discover More Music