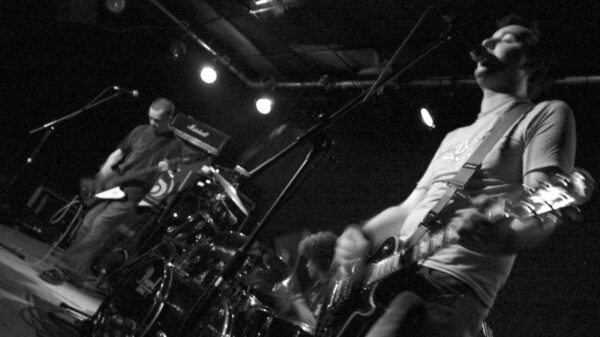 Sohnee
Shatter EP
Made up of reworked older songs and a crackling new tune, 'Shatter' shows a new sharper edge to Sohnee that their previous offspring perhaps lacked.
The disc kicks off with the foot tapping, Goth rocking, title track. The bass keeps it low down while the guitar layers lead us on a Therapy-like trip to the chorus whereupon the distantly haunting backing vocals add some real depth to the track. Sullen in places, but rocking throughout, this is a worthy title track.
However, the melancholy mood is soon lifted with the forever fresh, 'The Girl With Long Black Hair'. Raised from the album 'Cicatrization', this tune has all the hallmarks of a great uptempo Goth/pop anthem which could well be worthy of a chart placing given the right airplay. It's just one of those tunes where that chorus is going to pop right back into your head when you least expect it… and then do it again, do it again and… damn its happening already!
'Sleep While I Choke' is a moody lament on all things wrong with the world. Depressing is what you expect after the first few bars, but the happily buoyant melody ensures that, without realising it, you'll be gently rocking back and forth in your seat. Indeed, what starts out as an essentially sad song ends up leaving you feeling somewhat lifted and is certainly reminiscent of Husker Du's slower moments.
For me 'Insanity' is the best track on this EP. In fact I would go as far as to say that, if it wasn't for the delay used on the vocals, this track could easily be passed off as one of the tunes that didn't quite make it on to Therapy's 'Troublegum' – and in my book that is no small achievement. Sort those vocals, crank up that guitar and it would be there.
The EP ends with the relatively new 'Evil Angel'. Despite the enjoyably yo-yo guitar intro riff, it is really the bass which is the star here. As big, full, and bouncy as fat man taking trampoline lessons, the bass ensures this track keeps it stomping up and down right down to the final bar. Top stuff.
However, it would be unfair to say this EP is not without it's failings. The first thing that strikes you is the bedroom-like production quality. This is best highlighted by the distinctly detached drums (though not on the title track) which don't quite seem fit with the rest of the instruments. Don't get me wrong, the beats are all there, in time and in the right places, its just they sound like they have been forcefully shoehorned into the mix.
The second thing that bothered me about this record is the vocals. While the guitars and bass work well together to create a melodically brooding landscape, the vocals lack those extra gears needed on the angry scale to do justice to the darkly twisted lyrics. Just where you are expecting the vocals to rear up and take you by the throat, they kind of give in and end up clinging to your trouser leg, which is a shame because these two gripes detract from what is essentially a collection of well written songs.
In short Sohnee have come up with an EP that, despite its faults, hints at songwriting potential. Given a bit of nurturing and that essential dollop of good fortune, it could possibly turn a few heads in the future. However, some solid touring, new material, and an attention to production will all be essential if they are going to take it to the next stage.
Sohnee Articles
Written by Habert on
Pete Habert was sub-editor for The Mag and co-ordinated submissions from the swarm of writers that contributed articles from their local music scenes.
Discover More Music