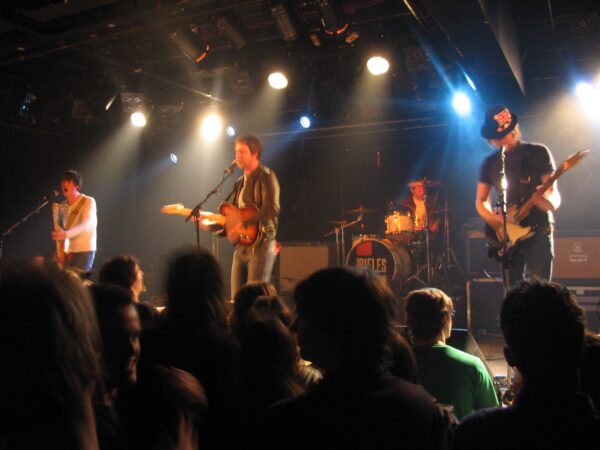 The Rifles
Live (The Red Kites / Barabica / The Willbrahms)
The Red Kites kicked off proceedings at The Bull and Gate with an energetic and surprisingly diverse collection of songs.
A fairly standard set of influences goes in to the mix here; The Smiths, The Beatles, and the Stone Roses all get a nod, but there is something more groovy going on with the music that brings to mind some elements of Kula Shaker and Gene.
The set just wasn't long enough for this band and ended with the funk-groove of 'You Got the Fever', which repeats on your brain at inopportune moments; distracting your thought process with the 70s guitar riff!
Second band on offer, Barabica, were very confusing. The energy, enthusiasm and talent of the front man just weren't reflected in the rhythm section that were backing him up. The drums were a fairly feeble backdrop, with the skins barely being tickled. The bass guitar was played proficiently enough, but in stark contrast to the leaping and thrusting being exhibited by the singer / guitarist, there was no movement at all.
There were some good songs in this mix, if you could get past the failings of the performance and it is a real shame that the performance hasn't rubbed off on the rest of the band.
The Willbrahms were a strange beast. How do you describe a band that plays fairly catchy rock songs in the style of the Dukes of Hazzard? Thoroughly entertaining!
The singer didn't really have many meaty melodies during the verses, but made up for things rather well when the chorus arrived. No single track stood out, but there was a steady level of quality and novelty throughout!
Headliners, The Rifles, had a really big following. This is not surprising as The Jam are a very popular band and The Rifles are beaten from the same raw materials! The Rifles do their stuff really well and they transport the crowd back in time to the mod era that you might otherwise only experience in a BBC2 documentary.
They were a lot of fun and did a seriously good job at their cover-free tribute, just don't expect anything new!
---
Photograph © Erik1980 CC BY-SA 4.0
The Rifles Articles
Written by Smith on
Stuart 'Saur' Smith was a prolific writer for The Mag throughout the magazine's lifetime. He combined a day job of temporary office jobs in London with a nightlife of trawling the capital's music venues looking for talent. As well as writing about music, he was a session musician who featured on a number of singles in the 90s. Today, Stuart is a Chief Writer for Phonotonal.
Discover More Music