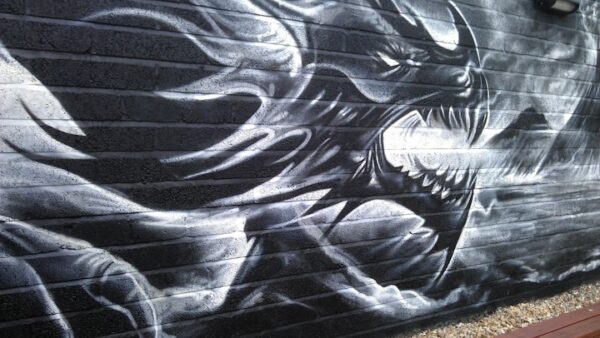 Auto Circus
Live
The Hobbit is a difficult venue to play. The downstairs room is fairly small; it's incredibly difficult to sound good, and very easy to sound like a loud mess. Auto Circus, though, sounded very good indeed.
Opening track, 'Paint Her Picture', established the mood with that sparkly fender sound dominating both rythm and lead guitar. The vocals were relaxed and gravelly and this contributed to the almost lazy vibe that the band conjure up.
However, they clearly aren't lazy at all – as 'By the Sea' demonstrates. A hooky guitar intro triggers a rather well-polished song that has all the brandings of a summer holiday anthem that could get snapped up for a jeans advert.
Maintining the general pulling-power throughout, the set continued with 'Love to Burn' and 'Follow Me Down'. The first of these two tracks has some particularly smart instrumental work, with the two guitars taking seperate but intertwined paths. There is also an underpinning of groovy bass in both these tracks.
'Little Victories' is such a laid back song that it is impossible not to enjoy it. The chorus has a dignified and understated presence that flows back into the Butleresque guitar link.
The next little victory for Auto Circus is 'Liverpool Street', which despite it's distinctly 'Penny Lane' title continues the pre-britpop indie sound that does so well for them. Penulitmate track 'So Far Away' flows gently down stream to 'So Heavy', which sounds a bit like the material James came out with in the Whiplash era.
Auto Circus are showing promise. The performance is, at times, as understated as the music, but the material is good quality. If they keep writing their trademark summer-rock songs they will soon be recognised as the distinctive and enjoyable band that is bursting to emerge.
Auto Circus Articles
Written by Smith on
Stuart 'Saur' Smith was a prolific writer for The Mag throughout the magazine's lifetime. He combined a day job of temporary office jobs in London with a nightlife of trawling the capital's music venues looking for talent. As well as writing about music, he was a session musician who featured on a number of singles in the 90s. Today, Stuart is a Chief Writer for Phonotonal.
Discover More Music