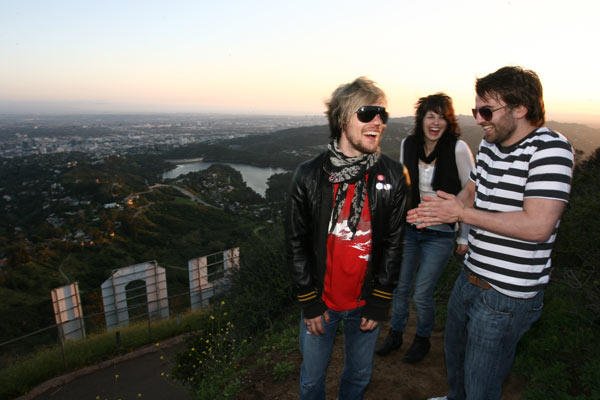 Fleeing New York
Live (Auto Circus / Alaskan Pipeline)
The Joiners, Southampton, was rammed, somehow managing to squeeze more than two-hundred punters into the venue for a night featuring three very different bands.
Alaskan Pipeline opened with a two-chord Travis-esque song that was fairly uninspired and failed to snatch the attention of the crowd. Dissapointingly, the second song was poured from the same dreary cask and the band made their task even harder by looking fairly bored.
This may have been down to nerves, or just a poor choice of songs to start with as things picked up at the third number, which was more original by far. In fact, this track was damn memorable and had some catchy guitars and a nice melody. Singer, Christopher Olden, has a solid voice and knows how to use it. This was demonstrated once again in the next track, which was the Pipeline's best song of the night. More like these two please.
Auto Circus started their set with some riffy rock and roll and really sold their entire set. The vocals of Tom Williams were of the recognisable type and brought to mind a union of what Gene and Elvis Costello might sound like after several pints and a packet of fags.
This was trashy British guitar-rock and it was good. The only downside to the set was that the snare drum sounded like a wet blanket. There may not have been much new going on, but the songs were catchy and the band convincingly pulled off a raucous Britpop performance.
Headliners, Fleeing New York are currently causing a bit of a buzz. It is easy to see why, as the perofmance was top notch. There were some great moments in the music, everything was tight and the musicianship was unquestionable.
Unfortunately, being an excellent musician doesn't always mean writing excellent songs. Although there were a couple of stand out tracks, such as 'Scandinavia', the set wasn't as full of memorable moments as it used to be and there is almost too much effort wasted on trying to avoid pop songs. We know that FNY can do better, we have heard them play sets that not only have the wired performance, but also leave little hooks looping in your head for days.
FNY are undoubtably talented and we have heard them play some great songs before, but this time they failed to live up to expectations.
Written by Smith on
Stuart 'Saur' Smith was a prolific writer for The Mag throughout the magazine's lifetime. He combined a day job of temporary office jobs in London with a nightlife of trawling the capital's music venues looking for talent. As well as writing about music, he was a session musician who featured on a number of singles in the 90s. Today, Stuart is a Chief Writer for Phonotonal.
Discover More Music