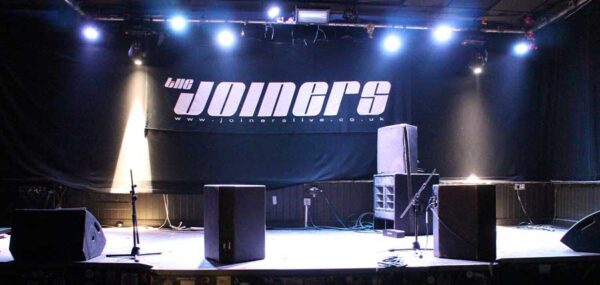 Intentions of an Asteroid
Live (Seven Days at Knifepoint / Freezer Burn / Stout)
Seven Days at Knifepoint made a strong start with a sound similar to The Used, but with some Tool style breaks.
The overall effect of this set was punchy and tight, with vocals drifting from melodic to nu-metal shouts with ease. SDAK have got a great sound and the addition of some more of their anthemic moments will not only help them to pop back in to your head, but will also sell some records.
Having to follow on from such a polished band, Freezer Burn sounded a little messy and had a motionless performance. There were some tuneless androgynous vocal moments that hinted at a Placebo influence.
There were songs in the set that had good ideas and acceptable execution, but the sound lacked some of the guts that might have been added by a second guitar or by some more emotional commitment to the lyrics.
One thing this band does have sorted is the bass, which laid down the solid spine of most tracks. The songs themselves weren't bad either, showing some moments of inspiration and creativity that just needed that extra something to really shine. Freezer Burn need to work hard to ensure that their songs don't get lost in the musical drone.
Stout managed to produce a well honed, well presented performance with the right mixture of energy and music. Some great drumming pulled each song in and out of the loud moments and the vocal duels between the front-man and guitarist kept things interesting, even going as far as an ambient whale-song break in between the Jason Perry style deployed during the more conventional moments of the set.
The Stout set was a chunky rock experience with loads of energy.
Intentions of an Asteroid played a familiar sounding set that really only managed to stand out because of the quality and togetherness of the band. Unbelievably good vocals, including three part harmonies, were the difference that stopped each chorus from becoming forgettable.
It wouldn't be fair to skip over the fact that there were a couple of really good songs, such as 'Shaped at Dawn', that were pleasing to the ear. In fact, there were no really bad tracks in the whole set. However, the ability and quality of the band does make you wonder why they aren't applying themselves to something a bit more unique that might give them a sharper edge and get them noticed.
Written by Fenton on
Steve Fenton writes in our music, words, and culture categories. He was Editor in Chief for The Mag and covered live music for DV8 Magazine and Spill Magazine. He was often found in venues throughout the UK alongside ace-photographer, Mark Holloway. Steve is also a
technical writer and programmer
and writes
gothic fiction
. Steve studied Psychology at OSC, and Anarchy in the UK: A History of Punk from 1976-1978 at the University of Reading.
Discover More Music