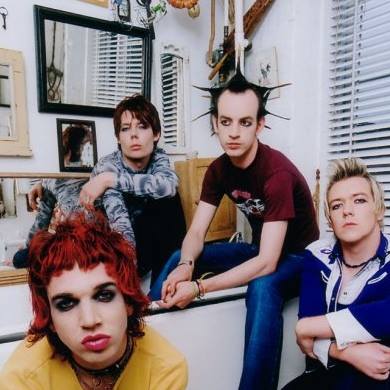 King Adora
Live
Compared to early Manic Street Preachers and described as Glam/Staduim Rock, King Adora have obviously impressed a lot of people with their no-nonsense songwriting style.
Many of these comparisons could easily be explained by their appearance. Stepping on to stage at The Railway, Winchester, with big hair, lipstick, and an ill fitting wardrobe. However, it isn't just down to image; Kind Adora play a whole set of really strong punk-pop songs inspired by sex and… well – sex mostly!
Peering over the heads of the crowd, who's average height suggested a mostly teenaged following, it was possible to witness a big performance on a small stage. The amount of pouting, bouncing, and shaking was alarming in such a small area and reached critical mass during their most popular numbers as the crowd joined in. With so many songs meeting this criteria things got pretty hot.
The downside to King Adora's glam-punk-pop sound is that people never know whether to take it seriously or if the style can ever have genuine integrity (ask people if they like The Darkness). The beauty of KA is that it doesn't matter. The performance and image are certainly going to make you wonder, but the songs won't leave you in any doubt at all.
Written by Fenton on
Steve Fenton writes in our music, words, and culture categories. He was Editor in Chief for The Mag and covered live music for DV8 Magazine and Spill Magazine. He was often found in venues throughout the UK alongside ace-photographer, Mark Holloway. Steve is also a
technical writer and programmer
and writes
gothic fiction
. Steve studied Psychology at OSC, and Anarchy in the UK: A History of Punk from 1976-1978 at the University of Reading.
Discover More Music