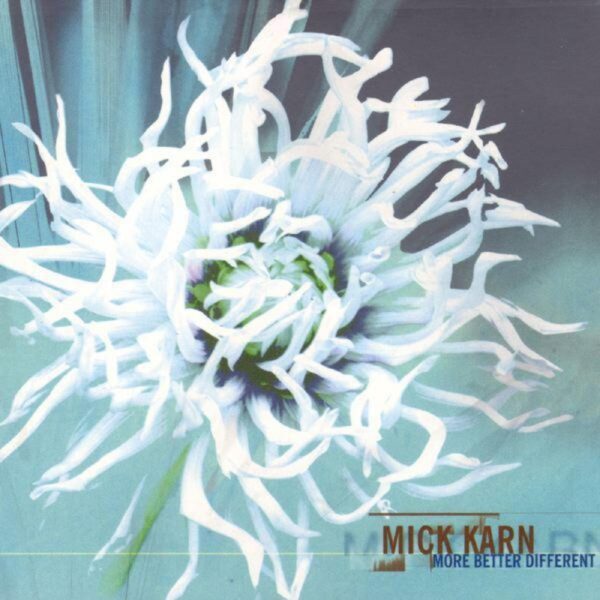 Mick Karn
More, Better, Different LP
Back in the early eighties, Mick Karn was the bass player with the successful art-pop group Japan from which the singer, David Sylvian, became somewhat of an icon for the new-romantic movement of the time.
Soon after Japan broke up in 1982, Mick released the first of a series of solo albums showcasing his talents on bass, saxophone, keyboards, and synthesisers. In between solo albums, Karn collaborated with the likes of Midge-Ure and David Tom, carried out session work for Kate Bush and Joan Armatrading (to name but a few), formed 'Dali's Car' with former Bauhaus singer Pete Murphy, and embarked on a parallel career as a sculptor, exhibiting works in Japan, Italy, and London.
Coming from independent label Invisible Hands, 'More, Better, Different' is Karn's latest album, on which he not only plays all of the instruments but also took on the production duties. In short a virtual one-man album, which unfortunately allows him no escape from the blame that must be applied for the clearly over inflated title. However, this aside, Karn has come up with a dark, moody, and playful album that is has its anchor somewhere near the category of ambient jazz (err…if there is such a category).
As you would expect it is Karn's distinctive bass sound which is the predominant force throughout the album, leaving the guitar, clarinet, keyboards, samples, and even the vocals to create the often sinister, and constantly moving, backdrop.
For those not familiar Karn's fretless bass sound, just imagine the sort of twang you would expect bass strings to make if they were made out of rubber and you'll be somewhere near there.
The album's highlights are plenty and those that stand out include 'The Jump' with its contrast of funky and sub-aqua like bass melodies imposed upon a ghostly synthscape. 'Atyan B-Boot' with its wah guitar, 80's style science fiction soundtrack (including samples from what seems to be a sub-space distress call from Beagle 2). The menacing 'It's His Birthday This Year' including that old sample favourite of the twangy ruler against the desk and the hauntingly happy bass melodies of 'The End Gag'.
Basically 'More, Better, Different' attempts to live up to its title due to the sheer artistic approach Karn has applied to his album. Conformity is certainly not an element that has been considered; each track has been carefully sculpted to produce deep atmospheric soundscapes with the occasional uplifting, jolly melody. In layman's terms, the end result is that the whole thing sounds something akin to the James Taylor Quartet, lost in space with only some quality 1960's LSD for company (i.e. those with a firm grasp of reality and a linear stream of thought need not apply).
'Different', definitely but 'better', probably not as ultimately 'More, Better, Different' is really nothing more then pleasantly enjoyable sonic wallpaper.
Written by Habert on
Pete Habert was sub-editor for The Mag and co-ordinated submissions from the swarm of writers that contributed articles from their local music scenes.
Discover More Music