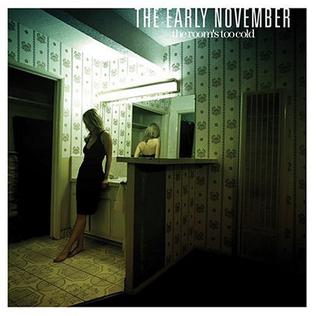 The Early November
The Room's Too Cold LP
The Early November are an EMO band that stands out by virtue of some excellent rhythms and by the way that front man, Arthur Enders, spits out the lyrics with incredible venom. In fact, the vocals actually suggest that the songs have a firm foundation in honest-to-god genuine emotion.
'Ever so Sweet' opens the album in an unorthodox manner with a predominately unplugged feel that appears again later in 'Dinner at the Money Table'. The acoustic guitar is accompanied by rich warm strings and the lyrics are delivered in equal doses of vulnerable and angsty.
Second track, 'Something That Produces Results', brings the speed up a notch with some interesting time signatures and chunky guitars that build up to 'The Mountain Range in my Living Room', which has the biggest hooky chorus on the album. There is just a touch of the Manic Street Preachers in the pre-chorus and verse in the way the lyrics fit to the music but the chorus itself is definitely the star of the show.
'Sesame Smeshame' has a punk-revival feel to the bouncy guitars that contrasts with yet another anthemic chorus and there are a couple of other tracks on the LP that also suggest links to other label-mates such as Homegrown, with both 'Baby Blue' and 'My Sleep Pattern Changed' popping memories of 'You're Not Alone' into the mix.
The intelligent use of space throughout 'The Course of Human Life' combined with yet another great strap line at the end of the chorus makes this track another stand-out tune on this disk.
This is an album that contains several great tracks that have been placed together really well, with tracks linking together like Therapy's 'Infernal Love'.
It is another addition to the huge collection of EMO bands available, but The Early November clearly have something new to add to the genre with the most honest un-layered vocal and some of the best songwriting I've heard. Ever.
Written by Smith on
Stuart 'Saur' Smith was a prolific writer for The Mag throughout the magazine's lifetime. He combined a day job of temporary office jobs in London with a nightlife of trawling the capital's music venues looking for talent. As well as writing about music, he was a session musician who featured on a number of singles in the 90s. Today, Stuart is a Chief Writer for Phonotonal.
Discover More Music