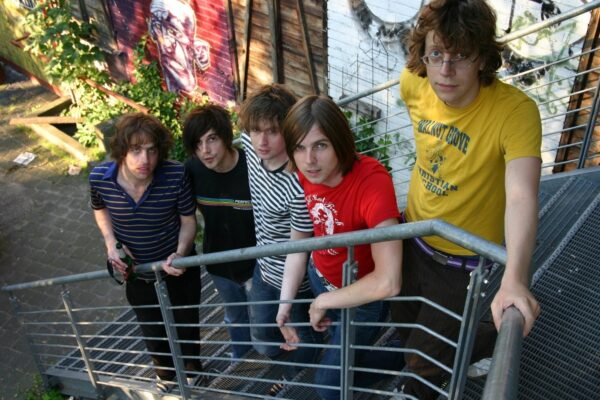 Chikinki
Live (Turncoat / My Red Cell)
Turncoat kicked things off with an instantly appealing indie sound. The vocals had moments of the Divine Comedy's Neil Hannon but the guitars were the main attraction and the source of direction for the band's style.
There were moments in the set where I actually braced for impact, thinking things were about to get very untidy, but it all remained together and maintained the accolade of quirky rather than sloppy. A brief power-cut that affected the St Mary's district of Southampton did interrupt their flow a bit, but overall they captured a lot of attention from the whole audience.
Ahead of their 14th June 2004 album launch, My Red Cell were a confident rock 'n' roll band with maybe just a couple of Emo-ments. The lead vocal was a combination of Joe Strummer and Ian Astbury and the Clash/Cult influence was audible in the music as well to a lesser extent.
For the second time in one night, an impressive and varied set kept the attention of the crowd, although My Red Cell had the edge on performance, especially through the facial contortions of their front man.
Headliners, Chikinki, were the most electronic of the bands, playing a kind of hybrid electro-Indie. There were some incredibly cliché lyrics in the set, but this didn't detract from a great sound and performance.
The depth of the vocal was a stark contrast to the Geddy Lee octave chat of the front man and the creative use of samples behind the music added a zany backdrop.
Chikinki are different. They aren't trying too hard to be different and the word different in this instance doesn't refer to some arty nonsense, it refers to some decent pop songs that have a fresh feel about them.
Written by Fenton on
Steve Fenton writes in our music, words, and culture categories. He was Editor in Chief for The Mag and covered live music for DV8 Magazine and Spill Magazine. He was often found in venues throughout the UK alongside ace-photographer, Mark Holloway. Steve is also a
technical writer and programmer
and writes
gothic fiction
. Steve studied Psychology at OSC, and Anarchy in the UK: A History of Punk from 1976-1978 at the University of Reading.
Discover More Music