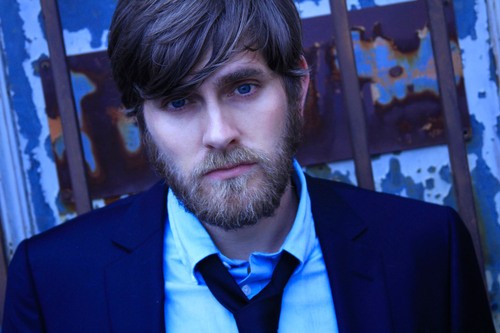 Josh Doyle
The End of Fear EP
Reappearing in an unexpectedly fresh way, Josh Doyle's 'The End of Fear' EP has marks of creative genius all over the emotional tracks, which vary from industrious (with sampled rhythms and layered guitars) to chilled acoustic.
The title track opens with a mysterious muted guitar sound flanked by crackly samples shooting from left to right. This is soon followed by a crashing wave of guitars and stuttered rhythm breaks that lead into a slowly building verse.
The intention of a very strong chorus is utterly clear and it doesn't disappoint with lyrics and melody combining perfectly to form a peak to the general upbeat message of the song. If you don't find yourself singing 'Wake up. Come off your medication…' after listening to this song, then you need to ask someone to check your pulse.
The other songs on the disk include 'Aphrodite' and 'Solar Storm', which are a more acoustic. However, the sampled backdrops still feature in some of the beats that form the foundations of the songs, 'Boy Racer' (which is probably the most electronic sounding track on the album – eerie samples and programming provide the sole accompaniment to the vocal) and 'Become Beautiful', which rounds off the record with an epic bitter sweet anthem.
The lyrics throughout this record lay bare many of Josh Doyle's own fears. Emotional strains and heartache feature as well as a fear of being mediocre and ordinary. Perhaps, as the order of the lyrics on the inlay card suggest, these are the fears that are going to be ended by this release. If this is the case, I would have to say that 'The End of Fear' should already be labelled a great success.
Written by Smith on
Steve Fenton writes in our music, words, and culture categories. He was Editor in Chief for The Mag and covered live music for DV8 Magazine and Spill Magazine. He was often found in venues throughout the UK alongside ace-photographer, Mark Holloway. Steve is also a
technical writer and programmer
and writes
gothic fiction
. Steve studied Psychology at OSC, and Anarchy in the UK: A History of Punk from 1976-1978 at the University of Reading.
Discover More Music