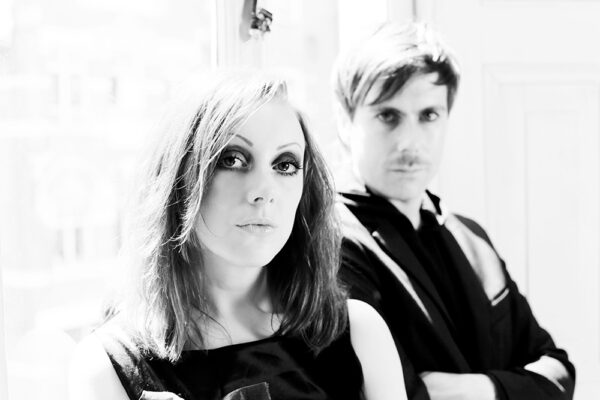 Scarlet Soho
Divisions of Decency LP
Following in the stead of two very strong singles, the long-awaited debut album from Scarlet Soho, 'Divisions of Decency', is an explosive head-on collision of electro, pop, and rock. Two decades of reference material are a clear influence, but innovation is evident with every twist and turn.
'Abstract Composition Part One' starts it all off with the bass guitar sound of Simon Gallup and guitars and keyboards that melt together until it's almost impossible to tell where one ends, and the other begins. The absence of vocals in this first track is quickly balanced by 'We Must Destroy', which starts with an angular lyric delivered in slick style by Jim Knights. This track, along with 'Reveal', introduces the rockier side of Scarlet Soho, while songs such as 'Modern Radio', 'Skin Trade', and 'Disconnected' demonstrate the synthetic side of their music. More facets are evident in the dark mood of 'Procreation: Self Abuse' and in the epic pop chorus and Cure-esque solo of 'Isolation'.
The final song on offer, 'City Behaviour', has all the hallmarks of a classic pop song with great melodies in the verse and a great chorus. However, the epic nine-minute length would no doubt be cut for a radio edit, which would mean buying the 12′ single or the album to get the full benefit of this track.
The common threads that flow throughout the album include exquisite layers of sound that mix sequenced rhythmic noises with floating synth. The vocal sound also changes with each song, at times sounding like Robert Smith and, at others, like Michael Hutchence.
In all, there isn't a single song that doesn't earn its place on this record with 10 distinct musical compositions that open the door to the many tangents that Jim and Scarlet explore in their songwriting.
Scarlet Soho have force-fed the dry sterility of electronic music with an emergency mix of creative innovation, crashing guitars and energetic melodies. And it looks like it's off the critical list!
Photography by Cosmic Egg.
Written by Fenton on
Steve Fenton writes in our music, words, and culture categories. He was Editor in Chief for The Mag and covered live music for DV8 Magazine and Spill Magazine. He was often found in venues throughout the UK alongside ace-photographer, Mark Holloway. Steve is also a
technical writer and programmer
and writes
gothic fiction
. Steve studied Psychology at OSC, and Anarchy in the UK: A History of Punk from 1976-1978 at the University of Reading.
Discover More Music