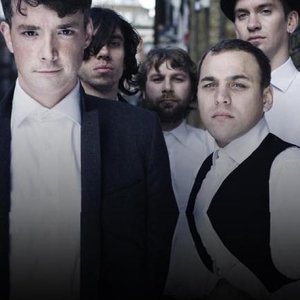 Rotating Leslie
Running From Your Love
Rotating Leslie are a five-piece with a fascinating and fast-paced history of expulsions, drugs, and degrees in mathematics. A quick summary would surely mention that they originally formed in 1989, got arrested in 1995, and finally made a record in a friend's bedroom in 2002.
'Running From Your Love' is an indie swayer with subdued moments in the verse and a build of noise and pace in the chorus. The vocal is warm and clean with hints of Elvis Costello that compliment the cleaner guitar sound. There is a marked distinctness between the verse and chorus in the first half with a clever swap-over that sees the verse get edgier and the chorus more subdued as if they've changed ends for the second half.
Following in the stead of this rather cunning switch, the quirky 'Just a Game' has jangly guitars, bouncy bass, and rolling drums. It's the guitar parts that do most of the work in this track with plenty of variations and interesting transitions.
Final track, 'Supposed to be There', evolves from it's an emotional intro into a great rocking number with a smart musical break in the middle containing 16-beat hi-hat and riffy guitars that crunch like a honeycomb. There is a little bit of Paul McCartney's 'Live and Let Die' in the guitar part, but it doesn't distract from the George Harrison moments in the rest of the song.
Rotating Leslie are now hard at work again, recording in the studio that they now call home, so expect to hear some more of their indie and rock stylings very soon!
Written by Fenton on
Steve Fenton writes in our music, words, and culture categories. He was Editor in Chief for The Mag and covered live music for DV8 Magazine and Spill Magazine. He was often found in venues throughout the UK alongside ace-photographer, Mark Holloway. Steve is also a
technical writer and programmer
and writes
gothic fiction
. Steve studied Psychology at OSC, and Anarchy in the UK: A History of Punk from 1976-1978 at the University of Reading.
Discover More Music