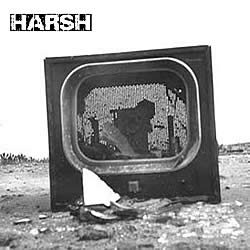 Harsh
Put Your Life On Hold For Television EP
Harsh have an aggressive lo-fi garage-tock sound that belies their technical ability… and a collection of sub-three-minute songs that does the same job with their penchant for intense lyricism. However, the effect of these disguised qualities is that Harsh are layered like a frigid strip-poker participant; it doesn't matter how many layers you peel away, there always appears to something else underneath.
'Felix Leiter' starts the onslaught with a quick build up that body slams you into the verse led by buzzing guitars and, after a brief fill, a chorus to match. The vocals spit the lyrics in typical Rich Maylott fashion, scratching and clawing their way through the huge guitar sound.
Introducing a gritty rock and roll style to the Harsh sound, 'Appliance of Science' spits out a sparse verse followed by a hooky chorus with a more relaxed sounding vocal. Full points go to the breakdown, which uses some stuttered drumming to add the texture to the song.
'Hardcore' smashes the sound barrier with the briefest of all the songs on offer. Despite its lack of length, this track still manages to hit the sonic g-spot with a big chorus and neat stop-start break towards the end of the track.
Two tracks have been lifted from Harsh's previous EP 'Hygiene Advice for Cheerleaders' and given a fresh recording with 'Project' being the first of these. A superior mix and change of guitar sound make the overall mix cleaner, but it's still the combination an impressive verse, hooky repetitive chorus, ultra-fast drum fills, and brilliant breaks that make this track stand out.
Penultimate track, 'A Moment of Pleasure', has a murky rock sound and a sleazy pace that all come from the quirky side of American rock. This track definitely isn't a typical Harsh song, but provides the chocolate chip in the cookie with it's comparative softness and change of flavour.
Unlike the subtle differences of 'Project', the second re-working on the record sounds vastly different from the original; a fact reinforced by the slight name change from 'Thatcher Years' to simply 'Thatcher'.
The guitar sound on this record shows a slight shift in direction, losing some of the drudge from the mix in favour of something crunchier than milkless cereal. This change has not only tidied things up a bit since their last release, but also created more space for the vocal.
Weighing in at under 13 minutes and smugly holding a hand full of aces, this record is only going to leave you wanting to hear more – time to catch up on their back-catalogue then!
Written by Fenton on
Steve Fenton writes in our music, words, and culture categories. He was Editor in Chief for The Mag and covered live music for DV8 Magazine and Spill Magazine. He was often found in venues throughout the UK alongside ace-photographer, Mark Holloway. Steve is also a
technical writer and programmer
and writes
gothic fiction
. Steve studied Psychology at OSC, and Anarchy in the UK: A History of Punk from 1976-1978 at the University of Reading.
Discover More Music