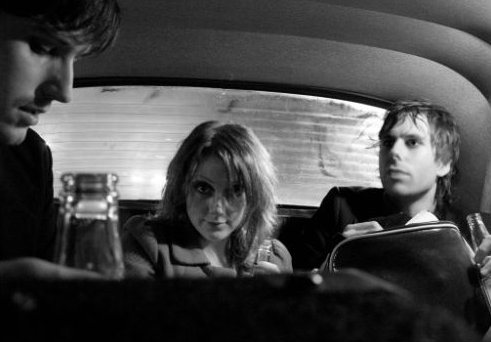 Scarlet Soho
Modern Radio
What can you say about Scarlet Soho that hasn't already been said? Well, not much, because so many people are talking about them! However, with one of the most instant songs from their album hitting the streets very soon, accompanied by an unreleased flip-side, something ought to be said about this strange collection of tunes.
'Modern Radio' combines eighties keyboard sounds with some Duran Duran-style camera clicking to create a swirling pop track with an urgent melody. The verse and chorus are pacey, but there are several moments of contrast after the chorus and toward the end of the song.
Sounding initially like the eerie soundtrack to a b-movie, 'Fibre Optic' is a dark and enigmatic track with many ambient sounds fused together to make the rhythm. After the 100% synthetic creation of 'Modern Radio', the guitars switch up this record. The bass lays down a powerful beat while the aforementioned six-string flies off along 'Cure meets Bauhaus' tangents between chugging verse sections. After all this misshapen musicianship, the chorus is an up-tempo pop moment that is nothing short of surprising in the middle of a twisted track.
Scarlet Soho write songs that contain loads of strap-line lyrics. These are taken to a surgically scrubbed room to lay down meticulously detailed tracks, which mix the emotionless eighties with the guitar-angst of the nineties.
'Modern Radio' is a good single, but 'Fibre Optic' is what makes this one really worth getting hold of.
Photography by Cosmic Egg.
Written by Smith on
Stuart 'Saur' Smith was a prolific writer for The Mag throughout the magazine's lifetime. He combined a day job of temporary office jobs in London with a nightlife of trawling the capital's music venues looking for talent. As well as writing about music, he was a session musician who featured on a number of singles in the 90s. Today, Stuart is a Chief Writer for Phonotonal.
Discover More Music