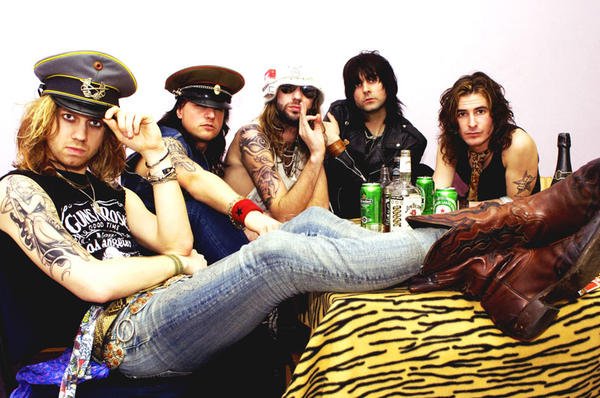 Red Star Rebels
Live
It would have definitely suited Red Star Rebels best to support Stephen Pearcy at the Garage on April 13. But Pearcy, the original frontman of Ratt, the legendary 80s L.A. band had, unfortunately, cancelled, disappointing two generations of London fans who have been waiting to see the pioneer of Hollywood glam since the beginning of the year. Red Star Rebels still did a show at the Garage two months later supporting Crystal Pistol, very different and very current merchants of American sleaze, who are moodier and much more rudimentary than their veteran 80s predecessors, but who are still able to rock with arrogance and drive of true rock 'n' roll crusaders.
The atmosphere of the show was, of course, different from what it could have been had Pearcy been headlining, but it still had its high points. The best was the 30-minute set done by Red Star Rebels who came out straight after Lethal Fixx finished their aggressive and single-mindedly fervent introduction to the evening.
Red Star Rebels opened with 'Too Young to Care', a spontaneous, free and daring punk-influenced song which in a few seconds completely drew the audience into the motion of their energy. Cowboy boots, 1988 L.A. drifter look, guitars slung like rifles, reinforced the immediate effect of unruly, volatile attitude and total disregard for this decade's British on-stage etiquette. Lethal Fixx watched from the audience and were clearly taken in, like the rest of the long-haired, young and attractive crowd gathered at the Garage that evening.
There were several highlights in the band's set that evening, an undeniable one being 'Breakout'; a memorable song stripped of unnecessary intricacy and refinement, but still capable of evoking complex emotions – excitement and triumph mixed with dejection. Sometimes throughout the song, just to make sure the audience got their pointers right, singer Blackie would let his voice adopt that unmistakable, instantly recognisable 80s Hollywood Vince Neil-meets-Axl Rose tone, and each time it would be like a jolt making you wonder if the two maniacs of the 80s L.A. rock scene were in fact visionaries looking decades ahead, disguised as debauchers and profligates.
'Fast Die Young and Pretty', like no other song, showed the band's faith in the supreme validity of an immediate emotional experience. Guitarist Meady delivered his artfully structured, brilliantly thought-through solo in such an effortless, almost virtuoso manner ( while managing to sound like no-one else but himself) that it made you wonder if we are soon to witness the return of the guitar hero tradition in this country.
The band finished in the style they have opened, with a contemporary punk song 'You're Just Another Drug I've Gotta Kick', a forceful and frantic number making sure the audience was left with the right finishing impression.
Red Star Rebels left you with a feeling that while they are able to recover some of the musical and visual imagery of Los Angeles circa 1988, their music is still fresh and contemporary and probably owes us much to punk as to glam metal. They take self-confidence, brazenness and audacity forgotten by the British music of the last 15 years, and mix it with their own unique feel for modern realities and urban experiences. Still, there is no confusion within this band as to its identity. They are in an uncompromising opposition to the hegemony of modern manufactured bands, and they are fiercely, adamantly propagandist of the three cardinal values of rock 'n' roll. We all know what these are. However, if you don't, all you had to do was take one single look at the band during the show.
It seems fitting for Red Star Rebels to have played support for an American hard rock band that night. It showed how 80s acts like Ratt, Motley Crue and L.A. Guns can not only deliver brilliant performances to this day, but still influence and form young musicians, both in the U.S. and in the U.K. Let's hope Red Star Rebels can keep the nerve to stick to their course and remain in touch with the spirit of their time.
Written by Guest Writers on
Between 2003 and 2009, [the-mag] had regular contributors from music correspondents covering their local scene. You'll find them all in the guest writers section. The specific writer is mentioned at the bottom of each article.
Discover More Music