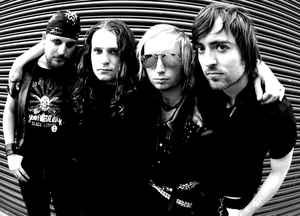 Jack Viper
Live (Supporting Vixen)
Jack Viper are one of those bands who, frustrated by inadequacy of the limited options that the 90s styles had to offer musicians, chose to look further back into the past for inspiration, and found it in the hard rock and glam metal of the 70s and 80s. While reinstating a lot of the vitality and attitude of 1980s bands, Jack Viper don't limit their music with preconceived notions of what this genre should be and don't confine it to any rigid framework. Their music can be understood by anyone, including those who don't view it through nostalgic glasses of history.
While they despise and reject pre-assumptions that prevailed in the 90s – from the way musicians were supposed to look to the kind of technique they were meant use – Jack Viper do not rebel just for the sake of a simple-hearted rebellion. Their defiance of the mainstream trends and refusal to conform has another side to it: its also an expression of a rather self-indulgent and genuine admiration for the great 70s and 80s bands like Motley Crue, Def Leppard and Faster Pussycat. This, combined with an ability to give a new interpretation to the old paradigm, means the band manages to remain a product of our time and focuses on reflecting contemporary realities.
'Crashed by You', the song which Jack Viper opened with on the night, may have given away a lot about their well honed skill and impulsive attitude, but it still saved a lot for the next song 'Blown Away', which showed the real level of ability in this band.
'Blown Away' started with a great riff-based guitar opening – articulate, convincing and sharp. Eddie Shredder is a grown-up and reliable guitarist who knows both how to deliver an exciting and vibrant solo but who is also a fantastic team worker who interacts with bassist Mister Kiss perfectly, with all the reserve and competence of an accomplished rhythm player. Mister Kiss himself is also a man inspired. His attack is fast but it has a stretched sustain which lines the texture of the band's sound with a clear, fat tone. 'Blown Away' had it all: changing harmonic structures, great riffs complemented by the hard-working rhythm section, gang vocals reminiscent of the first Skid Row album, and, to top it all off, a spectacular, vivid solo by Eddie featuring some awesome tapping.
The next song, 'Walk the Line', was a real showcase for singer Jay R's ability to deliver a compelling, versatile and consistent vocal performance. His range can go from a sharp scream to a sensuous growl almost the same way Sebastian Bach used to do it on 'Slave to the Grind', only Jay's take on this style has a dirty, low-down, flagrant attitude which could remind you of the end of 80s L.A. scene singers. At the same time, Jay is a vocalist who doesn't get stuck in the old patterns. He doesn't over-interpret the tradition and gives his singing a modern dimension. He sings dramatically without embarrassment knowing that in rock it is always the excess that drives the genre forward.
'Grab Some Brass', another high point of the show, again featured a great opening guitar, group vocals and a solo by Eddie which showcased his technique like no other song of the set. There were nods to Jimmy Page, a Tony Iommi-style vibrato and again some terrific tapping stemming directly from Van Halen.
The band finished with 'Go Fuck Yourself', a 'love song', as it was ironically described to the audience by the band, which again had a great riff and some depraved lyrics to go with the punky feel of the song, all combining to show that in Jack Viper's interpretation, vulgarity has its own code of meaning and allure.
While Jack Viper are challenging the preceding decade, the band that they supported on the night certainly knows a lot about the shifting fashions in rock and about the reversal of trends which happens almost every 10 years in the music business. Vixen, the old hand 80s L.A. scene band (who came on stage after the House of Lords, the second support act) looked and sounded as if the 90s have never happened. They weren't opposing or rejecting anything – what they played had an unbreakable continuity stemming right from the middle of the 80s to our time. With Vixen, style is just where the personality is and their charm on the night was in their ability to freeze the movement of time and to deliver their stuff with a cunning combination of innocence and experience.
Jack Viper are, of course, younger than Vixen and more aware of the social context of the times they operate in. Their task is more complex than the bands who pioneered glam metal, as they have to both preserve the genre and to expand its opportunities to go mainstream again. The way Jack Viper do it is by taking the old tradition and injecting it with a modern understanding of urban experiences. The final effect is a combination of competent musicianship which was mandatory for the 70s hard rock bands, light-hearted good-time vibe of the 80s, and the impudence of our times. This mix that Jack Viper present is so well-blended and natural, that they never sound fragmented or forced, a persuasive testimony of the fact that what this band does is sincere and innate, and that they place the enjoyment they derive from their music above considerations of commercial success.
The best way to get into this band is to follow the path of spontaneous response to their music which has tons of vitality and conviction expressed emotionally and directly. If Jack Viper refuse to conform and accept the ultimatums of the corporate music industry, they could end up playing a significant part in the impending turn of the tables which is about to happen in rock music.
Guest article from Alyssa O.
Jack Viper Articles
Written by Guest Writers on
Between 2003 and 2009, [the-mag] had regular contributors from music correspondents covering their local scene. You'll find them all in the guest writers section. The specific writer is mentioned at the bottom of each article.
Discover More Music