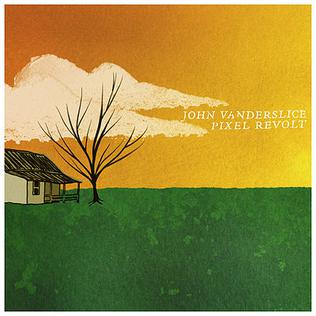 John Vanderslice
Pixel Revolt LP
It's telling that the first impression many people got of US troubadour John Vanderslice was through his recent tour with former labelmates Death Cab For Cutie. It would seem that the band have not only been sharing stages and labels – there is much of the intricately weaved melodrama of DCFC seeping through the songs of Mr Vanderslice.
Picking up Ben Gibbards eye for lyrical detail, this release weaves intricate tales of heartbreak and housework. Mixing the real with the imagined, Vanderslice creates intoxicating soundscapes of obtuse lyrical content with lush, yet defiantly lo-fi, homespun electronica and campfire folk.
'Letter To The East Coast' is a downbeat opener and would seem a distant cousin of Sparklehorses majestic 'Its A Wonderful Life' – setting a mournful tone for the rest of the tracks to follow. Deploying gravel-laced vocals to a backbeat of skittery lo-fi drum loops, Vanderslice also deploys thrift-store guitars with synths and sweeping cello to devastating effect – at once drawing you in and unsettling you. There's a distinct late-night feel to the whole album, from the understated opening passage through to mid-album highlights 'New Zealand Pines' and 'Continuation'.
While maybe a little dark to receive the OC treatment afforded to the aforementioned Death Cab, (the material here might be more suited to the darkness of Six Feet Under or maybe The Sopranos) songs this affecting and this intimate deserve to be heard by a far wider audience than the lo-fi production style might normally attract.
A classy record in many respects and one that points towards Vanderslice joining the long line of great American songsmiths (Elliott Smith, Mark Everett, Sparklehorse, Iron, and Wine) embedded into the American psyche.
Guest article from Ben M.
Watch John Vanderslice- Exodus Damage
John Vanderslice Articles
Written by Fenton on
Steve Fenton writes in our music, words, and culture categories. He was Editor in Chief for The Mag and covered live music for DV8 Magazine and Spill Magazine. He was often found in venues throughout the UK alongside ace-photographer, Mark Holloway. Steve is also a
technical writer and programmer
and writes
gothic fiction
. Steve studied Psychology at OSC, and Anarchy in the UK: A History of Punk from 1976-1978 at the University of Reading.
Discover More Music