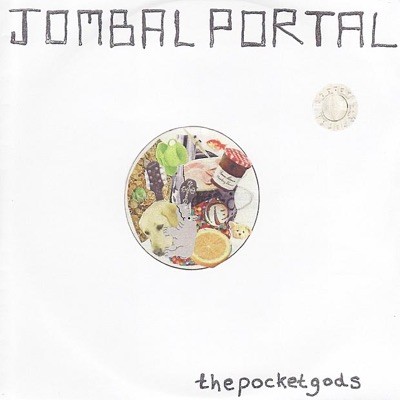 The Pocket Gods
Jombal Portal EP
'Hey nonny nonny' and so begins the EP from The Pocket Gods and if that doesn't set you up for the commercial pop sound to come, then nothing will. The melodies keep coming with vigour, all wrapped up in a big fuzz tone guitar sound.
Their spelling may be questionable, 'Weekend Revulers' is not an impressive attempt at all but then again, it hardly held Slade back and when the track is as infuriatingly catchy as this is, it's remiss to criticise. The guitar positively fizzes along and there is the impression that the duo is having an absolute ball recording.
It's not all fun though, as the appropriately titled 'Sunday Song' brings the revelry down with a sombre country-esque croon, perhaps not quite evoking memories of John and June Cash but certainly enough to recall The Raveonettes take on this particular style.
And The Raveonettes again spring to mind on 'VVBUD' which roars like a 1950s US diner favourite but the final track, 'Jombal Party' comes across as a sneering and gobbing punk-romp, so its pretty hard to nail down The Pocket Gods which in the end, works in their favour.
Over the course of a full album this lack of focus may be a bit disorientating but on a short release like this, the fun and adventure spills out of the speakers with the mantra that rock and roll is still alive and kicking.
Guest article from Andy R.
The Pocket Gods Articles
Written by Guest Writers on
Between 2003 and 2009, [the-mag] had regular contributors from music correspondents covering their local scene. You'll find them all in the guest writers section. The specific writer is mentioned at the bottom of each article.
Discover More Music