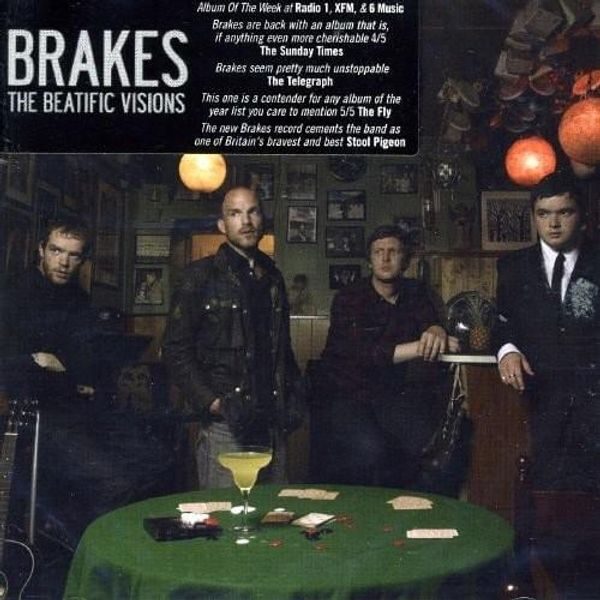 Brakes
The Beatific Visions LP
Just like anything else that brings pleasure, music is often listened to in order to separate one's self from reality; to get away from the rigmarole of daily working life. If that's your bag, then look no further than Brakes. It's been clear since the release of debut album 'Give Blood' that Brakes are quite simply mad as hatters. Not in an 'old lady who likes cats a bit too much' way, but more in a Timmy Mallet fun and wacky way. It must be great being vocalist Eamon Hamilton, and here's why.
Songs like 'Spring Chicken' and 'Porcupine or Pineapple?' are just plain mental; you can't not have fun with these tracks. There is literally nothing in the lyrics to ponder, leaving you to flail your limbs about in your living room or, more fittingly, a field at a warm summer festival. Although there's nothing as short or to the point as 10 second wonder 'Cheney' from the first record ('Cheney… stop being such a dick!), most tracks on The Beatific Visions stick around the 2 minute mark. Anything more than that would just be stretching the point unnecessarily, something that Brakes have never felt the need to do. The 11 tracks on here come to less than half an hour, which is a relief after having just put myself through the hour long bore-fest that is Beck's new album.
Like Beck, Hamilton does occasionally get a bit more serious, albeit in his own refreshing way. 'Isabel' is a touching acoustic number and one that highlights the simplistic, truthful lyrics. Hamilton's lyrics are akin to the opinions of a young child; sweet, innocent and seemingly free from any kind of ulterior motive. 'If I Should Die Tonight' details what to tell a loved one if he should die, but not in an impending death situation. He seems to be speaking from a paranoid, vulnerable state of mind; one that you cannot help but admire. With this kind of honest lyric on show it is extremely easy to feel at ease. Now I don't know about you, but complete honesty is not something I experience in my life all that much! Thank you, escapism!
Thankfully Brakes' sound has not been altered at all from the first record, combining driving acoustic rhythms with simple, precise lead riffs. There's something earthy and rural about the chugging acoustic guitar that drives Brakes forward, as in future festival pleaser 'Margherita'. Elsewhere on the album we go slightly country on 'Mobile Communication', a song about the frustrations of having to rely on mobile phones (something I can more than identify with). Different sorts for different cohorts.
In many ways The Beatific Visions has everything the first album had, which is a marvel really considering the apparent spontaneity of 'Give Blood'. Brakes are darn good fun and you will probably never hear a band that sounds like them anywhere else. They've been favourites of mine for a while and they're now officially favourites of The-Mag's too.
Guest article from Matt S.
Brakes Articles
Written by Guest Writers on
Between 2003 and 2009, [the-mag] had regular contributors from music correspondents covering their local scene. You'll find them all in the guest writers section. The specific writer is mentioned at the bottom of each article.
Discover More Music