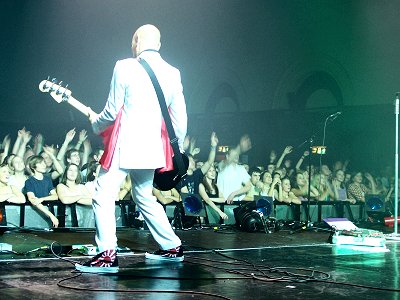 Delirious
Live
There have been a few bands over the years that have really nailed that big impact performance. Now, I'm not talking about giant glitterball lemons that open up to produce some slightly paunchy pop stars! What I'm talking about is a big entrance, captivating performance, and jaw-dropping surprises. Delirious seem to be one of those bands that knows how to please a crowd with their heartfelt performance. They also have some hefty songs to back it all up.
Picture Southampton Guildhall decked out in flashing red lights, with bright yellow beams cutting through the misty atmosphere. The crisply-suited band members dash out onto the stage and crash straight into their first track. They keep up the pace for four very distinct tracks, of which 'Here I Am, Send Me' and 'Fires Burn' are impressive ambassadors. It's fifteen minutes in, and I'm already eyeing the merchandise stand intending to make off with a copy of the new album, but it's a combination of the intensely crammed room and the desire not to miss the next song that delays the purchase.
I guess that, musically, there are references to Radiohead and Snow Patrol with moments of Placebo's looping era and The Cranberries' sparkly guitars. The lyrics are inspired by a combination of religion and politics and the way it's all put together on the night makes for an incredible show. After the energetic start, things become subdued and moody, with the keyboards taking control from the guitars for a while before the power shifts back for the massive 'History Maker'.
It's really difficult to criticise anything about this gig. If you tried hard to find a fault, I suppose you might say that some of the epic, emotive moments were a little indulgent. Still, even so, the crowd were so caught up in the music they didn't seem to realise that the floaty middle section of the song had been building up for a good ten minutes, and it's not like there wasn't a really, really big chorus waiting to kick in afterwards!
Delirious are heading to Brentwood, Exeter, and Cambridge next on their tour, although it's pretty much sold out already, so sorry about that. However, they have a string of dates filling up the rest of the month if you fancy checking this band out.
Delirious Articles
Written by Fenton on
Steve Fenton writes in our music, words, and culture categories. He was Editor in Chief for The Mag and covered live music for DV8 Magazine and Spill Magazine. He was often found in venues throughout the UK alongside ace-photographer, Mark Holloway. Steve is also a
technical writer and programmer
and writes
gothic fiction
. Steve studied Psychology at OSC, and Anarchy in the UK: A History of Punk from 1976-1978 at the University of Reading.
Discover More Music