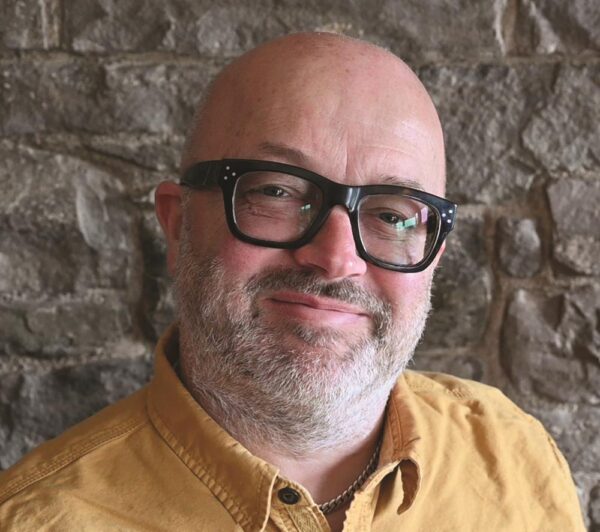 Tim Jupp
Interview
We spoke to the legendary Tim Jupp about home recording studios, the music industry, and organising a music festival. Tim was a founding member of The Cutting Edge and Delirious?, who released multiple studio and live albums, achieving eight Top 40 singles in the UK… all under their own record company (Furious?) and publisher (Curious?).
After Tim married in 1990, his old bedroom back home became his recording studio, using a half-inch 16-track to record (amongst others) Ishmael and, later, Brussel Spaceship. 'I don't remember much about the recording session [with Brussel Spaceship], but we couldn't record live drums because we were in a residential house. We used triggers for the drums… I bet they sounded awful.'
Despite technical limitations, Norman's Big Surprise sold the first run of two-thousand cassette tapes by mail order, and the band had to rush to obtain more copies. Tim added: 'I thought they should record their songs live to capture their performance,' which the band later did, in a live session that became their Slowdown album.
Delirious
Tim Jupp and Martin Smith formed The Cutting Edge Band in 1992 to support a youth worship event called Cutting Edge. They took time to assemble their perfect line-up, with nine bass players joining them live and in the studio between 1992 and 1995, including Brussel's Les Driscoll.
The Cutting Edge event took place in several South Coast locations. It regularly attracted over a thousand young people to Southampton's Central Hall, and an event on Littlehampton's beach was attended by four thousand people. The band sold 70,000 records at shows and by mail in the first half of the nineties.
With the long-term line-up of Martin Smith (vocals and guitar), Tim Jupp (keyboards and programming), Stu G (guitar), Jon Thatcher (bass), and Stewart Smith (drums), the band went full-time and released their first long player, King of Fools, in 1997 under the Delirious? name.
CD sales were the key to keeping the band going. The band maintained the rights to their songs but partnered with record companies in the US while handling the rest of the world with their own team. 'We were able to sustain ourselves on the record sales,' Tim said. 'At the peak, we had thirteen people on tour and 35 staff.'
Listen to Delirious – 'Heaven'. From Mezzamorphis LP.
Running their own label and publisher allowed the band to keep control. 'You can sign your life away to a label for less responsibility, or you can do all the work and take the extra responsibility. We licensed the records to labels in the US, but we still owned everything.' This allowed the band to remain full-time up to 2009.
'Digital harmed the feasibility of it. We were making most of our money from record sales. Half of the sales were in the US. The industry changed so that you could only make money by touring,' Tim explained. 'With records, people anywhere can buy them, but you can only perform in one place at a time.'
The issues for creators in making a living from music has been the subject of the Broken Record campaign, started by Gomez's Tom Gray. Tim explained one of the problems for emerging artists: 'The jump from being single to having a family is too big for most bands. You can scrape by when it's just you and some mates with no commitments. You find the money to keep a van running, and that's all you need. Once you start having other commitments, it's not possible.'
Watch Delirious – 'Rain Down'. Live at Willow Creek.
Big Church Festival
Just as the band was preparing to stop, Tim had a conversation that would provide a new direction for the skills he'd picked up playing in, and managing, the band. Alongside a land owner and a backer, Tim arranged the Big Church Day Out Festival (later shortened to Big Church Festival).
'When the band was ending, it felt like falling off the edge of a cliff,' Tim explained. 'But then something comes along and scoops you up.'
The one-day event in 2009 grew into a multi-day event that has lasted over a decade. 'We couldn't run the event for two years during the pandemic, but this year it grew.' The reason for the growth? 'Many people have been moving out of London and want to connect with local church communities to try them out. I think it's the same thing, they are trying out the festival for the first time following the pandemic.'
Organising a festival is tough work. Around twenty people are needed to organise the event, working within a not-for-profit charity. With attendances growing from 25,000 to 40,000 and bands needing to be booked up to eighteen months in advance, dealing with all the arrangements and balancing the books is no easy task.
Big Church Festival 2023 will be held at Winton Estate, West Sussex. UK on May 27th and 28th 2023. Super early bird tickets are currently available, with the option to camp. Glamping and rent-a-tent options will be released nearer the event.
Watch the Big Church Festival 2022 highlights.
Written by Fenton on
Steve Fenton writes in our music, words, and culture categories. He was Editor in Chief for The Mag and covered live music for DV8 Magazine and Spill Magazine. He was often found in venues throughout the UK alongside ace-photographer, Mark Holloway. Steve is also a
technical writer and programmer
and writes
gothic fiction
. Steve studied Psychology at OSC, and Anarchy in the UK: A History of Punk from 1976-1978 at the University of Reading.
Discover More Music