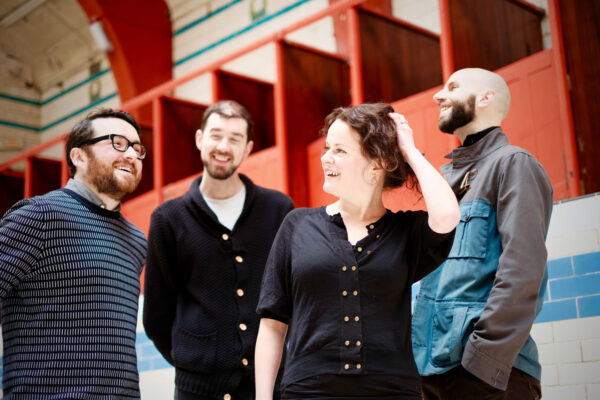 The State Broadcasters
The State Broadcasters EP
One of the best things about writing for The Mag is that you can come across some up-and-coming bands and get to see them develop. In 2005, it was this writer's pleasure to chance upon Saint Judes Infirmary and their debut album remains one of the best things heard in 2006. The band that stands out as the new act of this year, for me, would be Glasgow's own The State Broadcasters, their self-titled debut EP finally seeing them make their recorded debut.
Our previous reviews have highlighted their hazy folky Americana and the array of instruments used in their live show and thankfully the recording lives up to the expectations.
Opener 'Archaeological Dig' has a jaunty feel and pace, although with a sadder core that shines through in the mix of up-front backing vocals and string accompaniment. It's relaxed and comfortable, but never lazy or tiring and, as first tracks go, it sets the tone but leaves so much more to uncover.
Lead singer Graeme Black's sparse but welcoming delivery heralds the introduction of 'When The War Is Over', a song that looks back to previous times and muses on the losing or brief parting of a love, no doubt working as a metaphor for modern times. It has been said that I've never been the smartest at working out songs and their lyrical codes but with a classic style of songwriting, harking back to 'Galveston' and beyond and using a similar vein, the song is easy for the listener to get his head around and the slow plaintiff backing and tinkling idles the track by slowly but delicately.
'Talk about women as though they were prize bullocks' is not a line that crops up too much in music but when the song is called 'South Pole Stag Night', it is unlikely you'll hear it ringing from the pens of the current wannabe hipsters. In its own right it's a quiet yet pleasing track but it acts as a good rest point on the EP before the mood changes again.
Opinions on the band's myspace site indicate that there are a lot of favourite tracks for people but 'My Binoculars' has something about it. Again, the straightforward yet honest lyrics work so well, particularly over the glockenspiel chiming and Gill Fleetwood's backing vocals. With added violin from Jolene Crawford there's a lot to be found in this song and repeated listens uncover so many layers. In that aspect, and the fact that is has probably induced tears from grown men, it wouldn't be unreasonable to compare the track to an onion, and apart from The Rutles 'Cheese And Onions' (or that Rutles rip-off act The Beatles 'Glass Onion'), that's as rock n roll as an onion reference is going to get.
And if that's not enough to have you running for this collection, closer 'Takeshi' slows the tempo right down with the trombone sounding as melancholic as possible. Stretching out at length, the song has an end of night feel about it, the perfect finish to a long and smoky evening (candlelight obviously seeing as the smoking ban has kicked in….its coming England, you'll have to get used to it as well soon) with the initial reaction to pull the covers over your head and nod off blissfully.
Thankfully, that feeling soon subsides and you're left with the impression of a fairly strong debut release from a band with a lot more to give. If there's criticism to be had, it's in the fact that there is only 5 tracks when their live shows offer so much more. However, that's all to come in the future and for the end of 2006, 'The State Broadcasters' EP is more than enough to be carrying on with.
Guest article from Andy R.
Written by Guest Writers on
Between 2003 and 2009, [the-mag] had regular contributors from music correspondents covering their local scene. You'll find them all in the guest writers section. The specific writer is mentioned at the bottom of each article.
Discover More Music