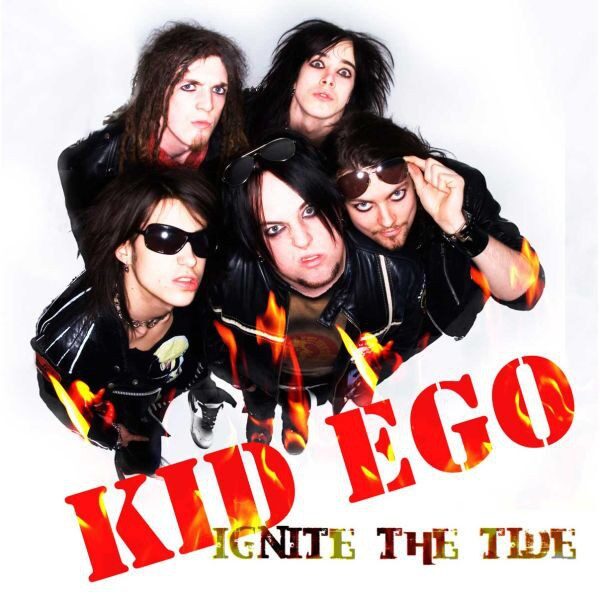 Kid Ego
Ignite the Tide LP
This album's influences stare you in the face like the classic album covers you'd immediately recognise in a record shop window. Practically every song on this record parades several pre-1990s styles which follow each other in rapid succession, so that one minute you are listening to a 1980s slow ballad-like intro, and then the next thing you know you are being plunged into a bouncy punk song. This approach makes the band sound so disjointed that you are left with an impression that the only thing which is original about them is the choice of sources from which they borrow and the amount of time they dedicate to showcasing each retro style on one given track.
To give you an idea the title song, 'Ignite the Tide', is a mixture of at least three 1970s styles spanning punk, hard rock, and glam. Verses are sung as 1970s pop-rock, the chorus sounds like something which could have been written by Gary Glitter, while one guitar solo emulates 70s hard rock, and the other one is a mixture of rockabilly and punk. This track is a musical equivalent of a brick-a-brac stall selling artifacts from different eras, all laid out next to each other – a 1970s Kiss lunch box next to a pair of platform boots and a Clash t-shirt.
In the song that follows, 'Lady Conniver', Kid Ego's affair with 1970s styles continues, and they at times sound almost like Burn-era Deep Purple, as well as at times punk, but still somehow manage to fit in some fine-sounding charming psychedelia into the middle 8 part, and this is what gives this track some extra depth and dimension which it badly needs.
The standout 'Till I Die' should really have been the opening song. If there is anything to be learned at all by modern bands from Led Zeppelin (one huge 1970s resource that Kid Ego dare not copy), it is the rule that an album or a live show should open and finish with the strongest ball-breakers of the set. 'Till I Die' is exactly that – a real stomping rocker, albeit retro (with verses sounding very much like those in Skid Row's 'Sweet Little Sister') and with a big chorus that suddenly took me back to the years when bands like Warrant and Def Leppard ruled MTV. This track is the most coherent and well-put-together song on the album, 'Heartbreak Hooker' a close second.
'Heartbreak Hooker', unfortunately, uses one basic idea which simply becomes boring after it is repeated a few times, and this song repeats it endlessly. What still makes this track great, though, is the middle 8 guitar solo – eloquently phrased and gathering pace beautifully and intelligently, taking time to build momentum and sounding almost like early Tony Iommi in its slower passages. The guitarist is by all means not a virtuoso, but here he demonstrates serious focus and an ability to ditch the shallow waters of this song's basic harmony and to dive deeper than most rock guitarists would these days in a simple song like that.
A technique of overusing one simple idea which quickly becomes tedious makes another song, 'Deathrow', sound subpar, but this is not the only flaw of this track. It carries a chord progression of a 1980s pop song until it suddenly erupts with a clichéd 1980 rock gang chorus, which it does several times throughout the song in between retreating back to the pop format. The purpose of this ploy is unclear, the same way it would be unclear why someone would want to wear a biker jacket over a tuxedo.
What all this illustrates is that Kid Ego borrows from different eras and different styles, but the final product is so fragmented that the band fails to sound like a consistent coherent whole. I am stunned that they have actually spent time and effort to release an album that does little more than serve as a reminder of what rock music sounded like 20 and 30 years ago. Maybe they needed to do that to remind themselves of their roots. I'm only hoping that the next album will show some original ideas springing through the ground with roots remaining where they should be – out of sight. Because we can all reach for them when we want to, and when we do, we reach for the real thing, not an imitation.
Guest article from Alyssa O.
Written by Guest Writers on
Between 2003 and 2009, [the-mag] had regular contributors from music correspondents covering their local scene. You'll find them all in the guest writers section. The specific writer is mentioned at the bottom of each article.
Discover More Music