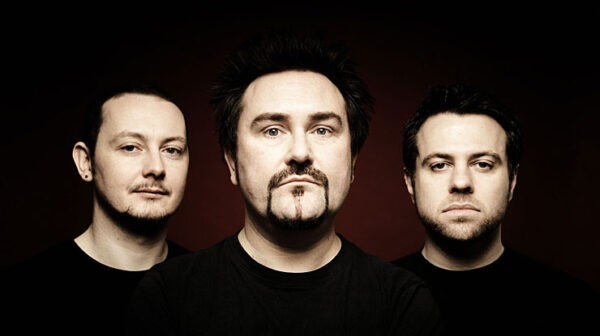 Therapy?
Interview
Over the course of 12 albums, Therapy have managed to make rock records that encompass and embrace the most unlikely influences and references. This ability to constantly transform and innovate is the reason the band has created so many unique and impressive records, but this is also the main criticism levelled at the band by the press.
Andy: Every record we make will be different. We still listen to new stuff so it gets us into something else. Sometimes is would be easier to be a "template based" band, but as musicians we're restless.

Michael: You can't be the same all the time because life changes you – and your records reflect that, they follow the peaks and troughs.

Andy: We could have fallen into trad-alt-rock, but we took influence from jazz, hip-hop, and dub-step drops. We've always been good at putting music we like into rock music.
And the result of their attitude towards the music is their brilliant twelfth album, 'Crooked Timber', which is a milestone record with big rhythms lined up against glimpses of their trademark elements from throughout their career.
Andy: We wrote the whole album from scratch. There were no pre-conceived ideas before we started writing in the rehearsal room. We were all involved and it felt exciting, like it was a project.

Neil: We came off of our German tour and we were listening to a lot of krautrock and the songs just tick along. We let that bleed into the songs. There's a confidence to the riffs, rather than lots of showboating. We resisted the temptation to keep on chipping away at the songs. If something sounded good, we used it and we didn't over-work it, We let it breathe. This is the first album I've walked away from that had ten complete songs.

Michael: The whole album was a good project. There were stressful moments because we pushed ourselves. All three of us had a clear idea of this record so it didn't get watered down.
And the ideas are still flowing – when questioned about the album, Andy was quoted saying "it's a step in the right direction". So with the creative juices still flowing, how does a three-piece that resides in Cambridge, Belfast and Derby keep writing?
Andy: Michael and Neil send MP3s through and I send four-track cassettes back because I'm the old guy. It's good that we don't see each other too much because it keeps the excitement. We used to live within 300 yards of each other.

Michael: When you're always around each other you don't have any individual stories. You can't tell everyone about something that happened because they were already there at the time.
But Crooked Timber wouldn't have happened if it hadn't been for the perseverance of the band.
Andy: If we were ever going to give up, it would have been at the end of 2001. We had no record label and no drummer. Most bands would just jack it in, but we bumped into Neil at a Rival Schools gig. It was a real coincidence, but the timing was crucial. Because we already knew Neil, we didn't need to run auditions. Neil is a very talented drummer and he's also very open-minded. We didn't have to stem any ideas.

Taking a year off was the best thing we did. We were touring so much that people were taking us for granted because they knew if they missed a show we'd be back again soon. We were thinking about releasing our 12th album and the gigs were only three-quarters full. Now we've been away for a while, people are excited to see us again.
Michael: We felt that we needed to break the cycle.
And the decision seems to have paid off, not just in terms of the album, but also because of the current tour.
Andy: We started in Malta and it was amazing. We thought we were going to be playing for 400 and there were actually 650. Newcastle and Glasgow both sold out and went ape. There's such a friendly atmosphere at the shows.

Michael: After the tour we're playing a lot of festivals and then we'll be back on tour again.

Andy: It's a nightmare selecting the songs. You can't please everyone. You can't play them all. We get a complaint every night because we've missed out a song that someone likes. Even in Malta someone asked for 'Meat Abstract' and we played so many songs we completely forgot about it. They came up to us afterwards and were really upset we hadn't played it.

Michael: We try to find the older songs that work with the current album. There are a lot of different sounds and tunings.
For a band that have been around so long, the outlook remains fresh. So how do they keep their outlook and sound so fresh…
Andy: I'm in my 40's and I'm a father and a husband. You can't avoid that mid-life crisis unless you look at things as they really are. We're approaching our 20th year. It makes us sound old. We started last century, we didn't have mobile phones and we released everything on vinyl. The core is still the same, rock and roll and music will both survive – the changes are all progress. I still buy music and I buy MP3s. When cassette tapes came out, there was a big fuss about home-taping killing music so maybe some things don't change.
So Therapy? can look forward to some extensive touring, festival appearances and the release of 'Crooked Timber', the title track from the album on 18th May. There may also be something special in the pipeline for their anniversary celebration.
Andy: Next year is our 20th anniversary so we'll have an extravaganza. A Therapy panto maybe. The Gruffalo or Crooked Timber on ice.
Written by Fenton on
Steve Fenton writes in our music, words, and culture categories. He was Editor in Chief for The Mag and covered live music for DV8 Magazine and Spill Magazine. He was often found in venues throughout the UK alongside ace-photographer, Mark Holloway. Steve is also a
technical writer and programmer
and writes
gothic fiction
. Steve studied Psychology at OSC, and Anarchy in the UK: A History of Punk from 1976-1978 at the University of Reading.
Discover More Music