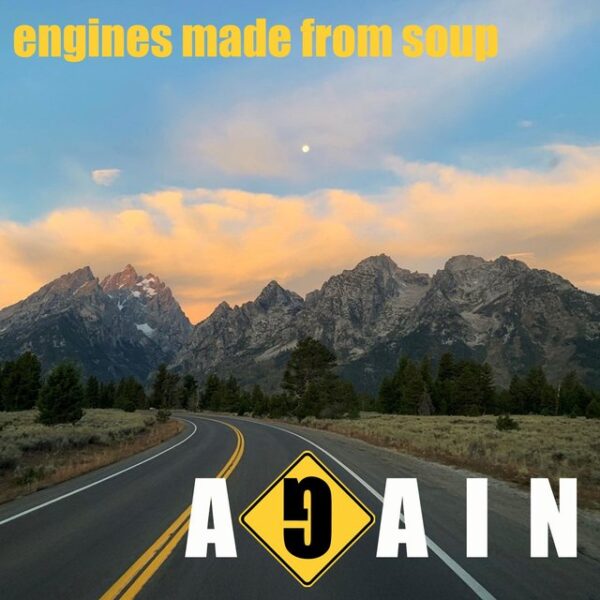 Engines Made From Soup
Again LP
Returning to life after a quarter-century hiatus, Engines Made From Soup have embraced digital music platforms to re-unite and remotely record a new album from several different corners of the United Kingdom. Their self-produced record landed on our virtual doorstep, so here's a taste of what you can expect when you give it a spin.
Things begin with the dark pop 'When Will It Begin (Again)'. This is perhaps a rhetorical question now that they've began again, but a solid beat and hooky bass riff hint at style akin to Echo and the Bunnymen. Don't relax into it though, as if there is anything we're about to learn from this record, it's this: There aren't two songs in the same style on this entire long player.
To illustrate the point, and soaked in a neat riff and upbeat rhythm, 'All of My Time' is like a Frank and Walters number. The song loops back to the chorus with waggy-tail positivity and relentless energy. The lyrics are sharper than the delightful tune suggests, which makes for a neat contrast. The song is a surprise and I like it a great deal.
The darker side re-emerges for 'Money', which comes across like an eighties alt pop song. Sustained piano and fuzzy guitars underpin a vocal that has a spacey reverb effect that oddly suits the doomy theme.
Up next, 'You've Done It' is an enigmatic song where the acoustic guitar is the star. It has the feel of an instrumental, but actually had vocals and samples. It's laid back sonically, but hints of social commentary some through. The subtle keys add an emotive quality that slides in and out of the verses. The bridge to the chorus had a slight jar with a drum fill and spotlighted bass, but because the verses and sampled sections are so good, i forgive it!
Did I mention the stylistic slipperiness of this record? Yes, I know I did – but here's the thing. 'No Way (Am I Taking This)' is a funk song, 'Mess' is like Gary Numan, but with Bernard Butler on guitar, and 'Vacate' has a Rolling Stones riff running through its spine.
This diverse run is followed by 'Betterman', which is a folksy number with pithy lyrics. The song genuinely has me waiting for the drums to leap in and lift the song for a rousing finale. While other instruments add to the build, the expected beat never materialises and the big open crashing ending lives only in my imagination.
We then have 'Put Your Head in My Hat', an unusual dancy dark pop song with creepy 'I'm coming for you' whispers. And 'Mine', an unexpected rocker with a great listy focal point that builds excellently.
It all ends with 'A Point Insane'; a song that is dark, but hopeful. The weight of the piano contrasts with a neat light guitar that sparkles. Overall this song feels like a Verve meets Elbow number. It's a good track to close an album with its long fade out.
The sound overall is pretty good, with a hint of DIY. The electronic drum sound is a little dry and humanless, but the guitar, keys, and piano some through in their respective tunes. Overall, the mix is very good.
There is such a mix of styles here, hints of Darling, Rolling Stones, the aforementioned Frank and Walters, bits of early Manics, moments of Deacon Blue, early Beck, some Gary Numan… even crazy afterglows of Kate Bush and Mike Oldfield. How do you put together a track listing with such an eclectic mix? There's no correct answer here, but despite finding the flow challenging, there's a lot to like in individual songs.
'Vacate', 'Mine', 'You've Done It', and 'All of My Time' were the songs I enjoyed the most on this record. While the production and arrangement would have managers and record execs tearing their hair out, this is the beauty of the alternative and independent scene. It's an oddball record and that's what's so great about it.
Written by Smith on
Stuart 'Saur' Smith was a prolific writer for The Mag throughout the magazine's lifetime. He combined a day job of temporary office jobs in London with a nightlife of trawling the capital's music venues looking for talent. As well as writing about music, he was a session musician who featured on a number of singles in the 90s. Today, Stuart is a Chief Writer for Phonotonal.
Discover More Music