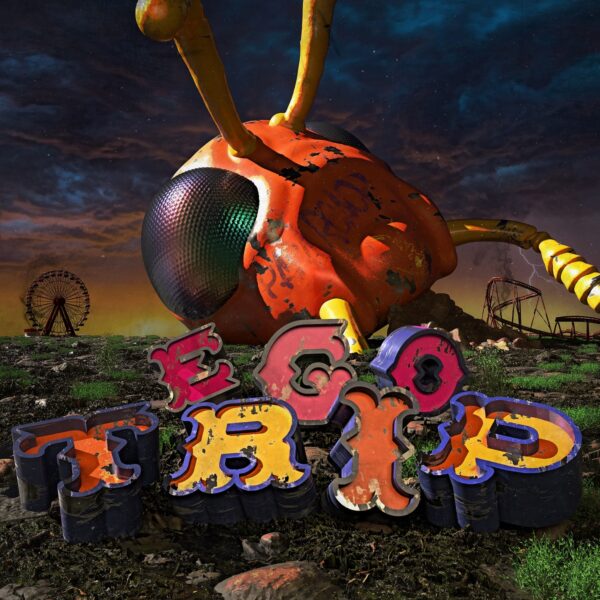 Papa Roach
Ego Trip LP
You don't get to spend two decades making face-smacking alt-rock and metal without oodles of talent. That is all! Ego Trip demonstrates this talent; not with weedling solos and constant virtuosity, but by laying down an utterly stomping fourteen tracks of angst-ridden brilliance.
Now, for those who haven't been paying attention since Infest, I would say that this record will surprise you. It would be forgivable to mistake a short sample of this record for Amen as it's in that more visceral style these songs are hurled down. Except there's more rap-style sections, which of course you'd recognise – though they have changed a fair bit since that turn-of-the-century second album.
There are some really huge tracks on this album. 'Dying to Believe' is an anthem of epic nu-metal proportions, you've got edginess and tight chops in 'Kill the Noise', and strong beats with unhinged guitars in songs such as 'Stand Up' and 'Bloodline'. You've got some oddball genius in there two, the rhythmic 'Liar' and the looped feel of 'Swerve' provide a brilliant thematic switch, with FEVER 333 and Sueco also featuring on the latter of these two.
You don't find many chorus lines as big as 'Unglued' out in the wild, made bigger by the pared-back verses. This part of the album blisters along, until the mood is switched with 'Leave a Light On', a song that builds to an emotional crescendo and shows off really melodic vocals. The mood continues through the introduction to 'Always Wandering', though this morphs into a rock anthem with (stay with me) flickers of the 1975s guitar licks and Pale Waves keys to fade us out. The section continues with 'No Apologies', which is a big emo track with metal guitars. On an album with such uncompromising alt-rock weight, this is a surprising but excellent addition.
The other clever aspect of the mood change is that it arrives quickly, but they build their way back out in steps. When 'Cut the Line' hits, it's hard to say that this is where the punch comes back as it's already been fading back in through the previous arrangement of songs. In any case, 'I Surrender' is full tilt and if you intend to simply play the album again (like I've done a few times) the ordering of songs means that you're ready for 'Kill The Noise' once again.
The album is immense, solid, and every bit one of their best.
Papa Roach Articles
Written by Fenton on
Steve Fenton writes in our music, words, and culture categories. He was Editor in Chief for The Mag and covered live music for DV8 Magazine and Spill Magazine. He was often found in venues throughout the UK alongside ace-photographer, Mark Holloway. Steve is also a
technical writer and programmer
and writes
gothic fiction
. Steve studied Psychology at OSC, and Anarchy in the UK: A History of Punk from 1976-1978 at the University of Reading.
Discover More Music