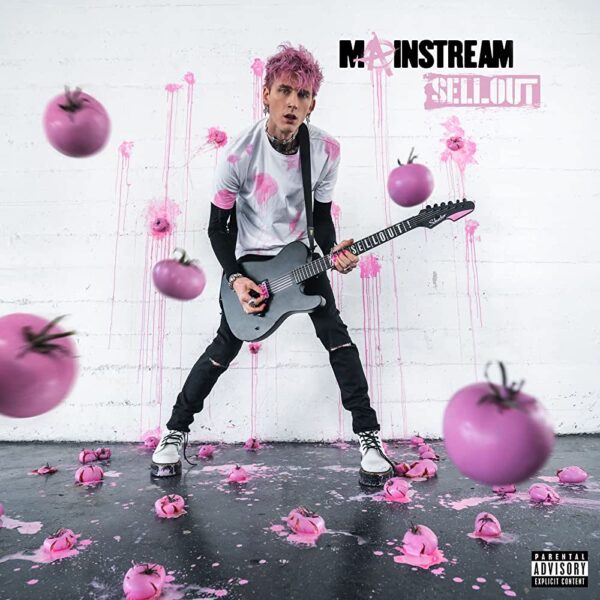 Machine Gun Kelly
mainstream sellout
Machine Gun Kelly has been unnecessarily defending his right to play whatever music he wants and I wanted to start out by echoing a recent comment from Phonotonal HQ that you can't gatekeep punk and anyone who tells an artist to "stay in their box" simply doesn't understand art. With this issue dealt with (I don't expect to have to tell you again), we can get onto the actual songs on mainstream sellout.
After throwing the vinyl onto the record player, I was two songs into the album when the censorship of lyrics disrupted the flow so much that I threw the record against the wall. I missed the wall but found an open window. As the deadly UFO arced across the London skyline, I discovered there is a second version here that is uncensored. I should have checked. This one's on me.
If you are looking for this album on streaming services, switch to the [E] version to hear the songs as they ought to be heard. When you do this, you'll find a painfully strong opening quartet. The blinky 'born with horns' has a feeling-this intro and a stomping chorus. The bass intro to 'god save me' is almost eighties pop, but the song develops into an angsthem (you're welcome) that sounds like it's fuelled by pain. The song builds melodically with a great chugging rhythm. With Bring Me The Horizon in the mix, 'maybe' is a more direct rock track with Paramore edges.
Things are more smoldering for 'drug dealer', featuring Lil Wayne. It's got some straight-rock beats and a hooky chorus.
At this point in the album, you'd expect things to dip. Even great albums have to give out somewhere, but we actually have the title track 'mainstream sellout', which is a bouncing pop-punk anthem that sounds light until you hear the lyrics, which fire back at the MGK critics out there.
Searching for the dip, I cruise past the pounding restraint of 'make up sex' (which refers to the make up after an argument and not the act of using make-up products for gratification), the sparkle of 'emo girl' (we've already gushed over that one), '5150' and on and on. When the acoustic intro of 'papercuts' kicks in, you think there might be a quiet one coming, but then it punches in and proves to be one of the greats on this record. The is just one cut-down emo track, in the form of 'twin flame'. It's still great.
It's all chip and no dip, so bring your own ketchup for this one.
The long list of collabs on this record was a worry for me, but it doesn't cause flow-jar at all. There's different flavours mixed in here, but the tone is consistent throughout, and MGK's vocal acts as an anchor for the different takes.
mainstream sellout is a great album as long as you pick the dangerous version. There are sixteen tracks on here that don't miss a beat.
Watch Machine Gun Kelly – Maybe
Machine Gun Kelly Articles
Discover More Music