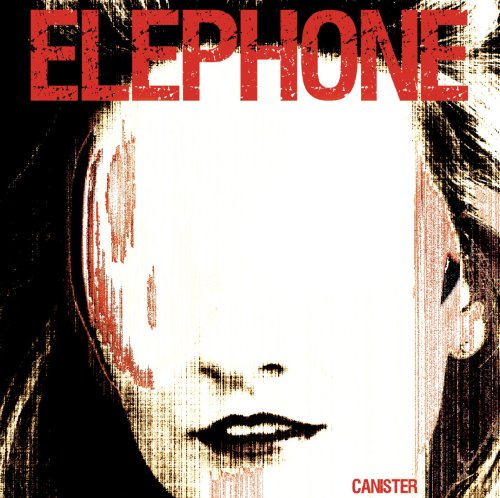 Elephone
Canister LP
This long-player is a total find. Back in 2008, San Fran's Elephone released Canister a ferociously playful and quirky album that should have been a global hit. You could sum it up as Modest Mouse crossed with Yeah Yeah Yeahs, but let's not get ahead of ourselves… let's give it a spin.
The opener is strong and distinct. 'El Jefe' shows off the band's updated line-up, with the record getting kicked off with strong contributions from singer Sierra Frost and drummer Lily Faden, who joined the band in 2007. The vocal duties are shared to good effect in this song and it's got an unhinged indie urgency that I absolutely love.
Clashy guitars and a rock-solid rhythm pave the way for 'Eddie Izzard'. There's a rock sensibility to the verse, but the chorus takes things into a sparkle of echoing guitars. Despite the Californian geography, this song has many Britpop elements, which is a theme on the record with strong melodic vocal performances and interesting keyboard hooks finding their way between smart beats and accomplished guitar work.
This is certainly the case for the Vervesque 'Canister', which is a warm and floaty emotional number, with a Pixies style looped vocal line that lets the instrumentation play around the theme before it melts into the more pumping 'American Plastic Farewell'.
There's a two-to-one ratio between the more straight-up indie/rock, like '70 Takes', 'Rabbit Train', or 'As Seen on TV' (great bass line) versus the more quirky stuff like 'It's Forced' or 'Operator in the Sky'. They mix it up well, as the album sounds really well assembled. The recommended listening order is all the songs exactly as presented.
With confidence, I can say that there's not a bad song on this record. Additionally, there's a lot of variation to be found here. You will love this record whether you come at it from Pixies, The Verve, Modest Mouse, Drugstore, Pavement, The Hives, or the Yeah Yeah Yeahs.
Watch Elephone – El Jefe
Written by Fenton on
Steve Fenton writes in our music, words, and culture categories. He was Editor in Chief for The Mag and covered live music for DV8 Magazine and Spill Magazine. He was often found in venues throughout the UK alongside ace-photographer, Mark Holloway. Steve is also a
technical writer and programmer
and writes
gothic fiction
. Steve studied Psychology at OSC, and Anarchy in the UK: A History of Punk from 1976-1978 at the University of Reading.
Discover More Music