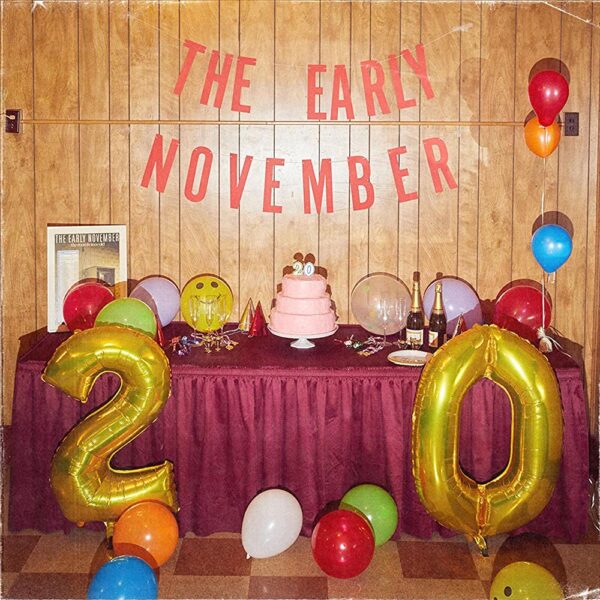 The Early November
Denent
With a tricksy beat, 'Denent' is a rhythmic experience during the verses and a slow drive in the chorus. Atmospheric and melodic, it's an instant classic for The Early November.
Drummers the world over will be sitting in tense discussion over whether this is a three-four or a four-four with triplets. Lap drummers will be flailing along, trying to sync to the beat. Music lovers will simply be rejoicing in their creativity. ⦗Bap – dop-bobba – bap bap bap – doppa – bap – doppa⦘𝄌… if you can say it, you can play it, as drum instructor Dave Cherry always told me.
With this beat pushing through the verse, like a rocky canyon of twists and turns, we suddenly emerge onto the wide-open tundra that is the chorus. Straight-up beat, big open chords, and melodic.
Bring it back before it's gone
That feeling you felt before you had it all
Wasn't there at all
Pull the rug before I walk
That feeling you felt before you're gonna fall
Wasn't there at all
The middle section has a chunky bass and two guitars that converge on harmonic notes. It's proper clever stuff, but, more importantly, it sounds great.
The Early November will release their new album, Twenty, on 14th October 2022.
Listen to The Early November – Denent.
The Early November Fall 2022 Tour
The Early November are touring throughout October and November 2022. Check out their website for more details.
October 2022
26th Asbury Park, NJ
27th Baltimore, MD
28th Philadelphia, PA
29th Virginia Beach, VA
30th Greensboro, NC
November 2022
1st Orlando, FL
2nd Atlanta, GA
4th Austin, TX
5th San Antonio, TX
6th Dallas, TX
8th Denver, CO
9th Lawrence, KS
10th St Louis, MO
11th Chicago, IL
12th Indianapolis, IN
Written by Fenton on
Steve Fenton writes in our music, words, and culture categories. He was Editor in Chief for The Mag and covered live music for DV8 Magazine and Spill Magazine. He was often found in venues throughout the UK alongside ace-photographer, Mark Holloway. Steve is also a
technical writer and programmer
and writes
gothic fiction
. Steve studied Psychology at OSC, and Anarchy in the UK: A History of Punk from 1976-1978 at the University of Reading.
Discover More Music