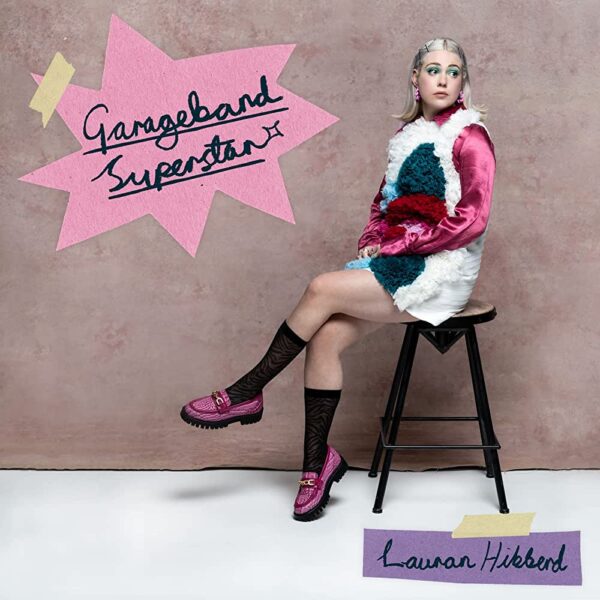 Lauran Hibberd
Garageband Superstar LP
Honesty up front. All the singles and EPs to date have been next-level brilliant. Despite this, as the clock ticked towards midnight and the first full-length album, Garageband Superstar, was almost here… I started to worry. Would those amazing songs work alongside each other? Could they fit together into one coherent album? Gulp. Let's find out.
The art of genre-bending takes many forms. Often, it's the jarring switches that define the art. If you think of Poppy slipping from sweet pop to visceral metal, the joins are highly visible and an intended part of the construction. With Garageband Superstar, things are different. The melding of different styles is more integrated.
It's like Seth Brundle (representing pop) climbing into the teleporter, unwittingly followed by a swarm of flies representing pop-punk, hip hop, and slacker rock. There are moments where things are mostly Brundle (pop), but he can now win an arm wrestle because he's got extra strength (hip hop), can crawl along the ceiling (slacker rock), and has increased sexual potency (pop-punk).
Best move on from the analogy at this stage and instead run-down the album in a rapid summary of two halves. I'll just mention the really good tracks here…
'Rollercoaster' enlists a surprising restrained beat and a great guitar riff, evoking M.I.A. and Elvis Costello with a smasher of a chorus. 'Still Running (5k)' brings a hip hop element with those nu-metal deck skills, the chorus has dreamy sparkle. It's a bopping fuzzpop like Shampoo or Bis for 'Step Mum'. Next up, 'Average Joe' has a Britpop element, a Menswear-like tone and a biting commentary on the practicality of poor Joe. We then have the ace pop 'Hot Boys', which has an all-time greatest pre-chorus. 'That Was a Joke' has funky edges in the verse that makes the switch to a flat-out chorus land like those water-ski dudes who can drop the tow line and slide up the beach to their cold beer without ever getting wet.
'Get Some' has a beat that pumps in the staccato verse and buzzing chorus. The title track, 'Garageband Superstar' is a wonderfully self-deprecating pop-drama song with a massive chorus and 'Hole In The Head' has Britpop moments during the verse, with the crashing last lines that propel us into a stuttering beat in the chorus. 'I'm Insecure' has a bit of everything, moving from the funked edges in the verse, to the hip hop pre-chorus and onwards to the anthemic chorus itself. It's all stripped back for the acoustic 'Slimming Down', with moments of Drugstore's dreampop in both the music and lyrics. 'Last Song Ever' moves from its cynical meditative intro to evolve through several phases into an angsty song that sounds like a show song from an alternative musical.
You made it through two dense blocks of praise. Well done. So, the album sounds good… but what's under the hood?
Lyrical Themes
There's no denying that quirky pop records can sound great and be vapid holes in the universe at their core. I don't think this criticism can be levelled at this record, which achieves similar daily-life lyricism to bands like Sleeper. Where Sleeper could chill you with an astute observation, Hibberd uses self-deprecation and wit to dampen the punches.
Throughout the album, Hibberd sings about being trapped on a small island while all her friends have moved away, covers end-of-relationship emotions, imagines stardom, and covers anger management and meditation. It's all quite everyday and down-to-earth but is delivered with wit. That's what makes it all so good.
Garageband Superstar Collaborations
DJ Lethal joins Lauran for 'Still Running (5k)' and yesterday's surprise single 'Hot Boys' features Viji for that excellent list segment. The title track, 'Garageband Superstar' features Wheatus, with Brendan B. Brown's signature vocal supplying ace harmonies.
When you listen to collaborations on some albums, they sound like they've come from another universe. The production differs by lightyears, the style is continents away, and it's just plain jarring. On this record, this is not an issue. All three collabs fit into the record like they were born there, a litter of songs all snuggled together in warm contentment.
The other litmus test for collaborations is whether the songs are better for them. 'Still Running (5k)' gets definite character from the turntable skills of DJ Lethal. We've already lauded Viji's delivery in 'Hot Boys', and BBB's voice works perfectly in 'Garageband Superstar'.
Our verdict
We have twelve tracks on this album, and (using very complicated mathematics) we can say with precision that it has only hits. You read that right. Every song is utterly brilliant, and I'm not just saying that because I think one of them is about me. (No – not 'Hot Boys'. 'Step Mum').
Lauran Hibberd is on tour throughout August and September. Head over to her official website for all the tour dates.
Written by Fenton on
Steve Fenton writes in our music, words, and culture categories. He was Editor in Chief for The Mag and covered live music for DV8 Magazine and Spill Magazine. He was often found in venues throughout the UK alongside ace-photographer, Mark Holloway. Steve is also a
technical writer and programmer
and writes
gothic fiction
. Steve studied Psychology at OSC, and Anarchy in the UK: A History of Punk from 1976-1978 at the University of Reading.
Discover More Music