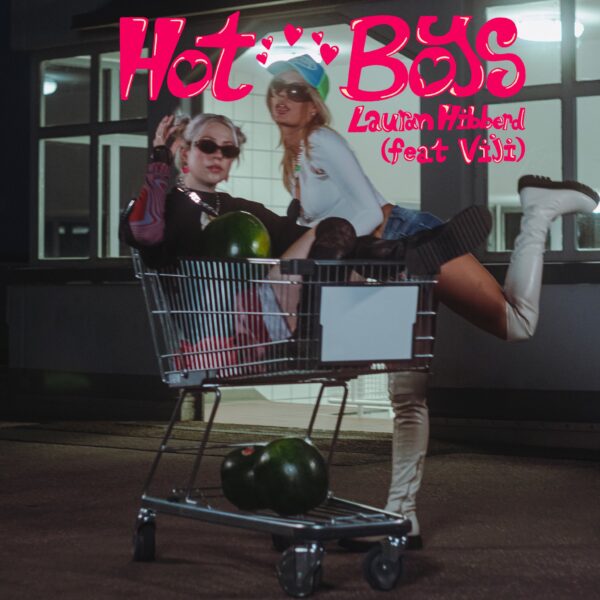 Lauran Hibberd
Hot Boys (with Viji)
'Oops. I think I fancy the drummer. We'll probably marry each other and then honeymoon in Spain!' And so we land in Lauran Hibberd's latest single alongside Viji, 'Hot Boys'. The song started as a joke, but it's a cracking track, so we're glad it's now manifest.
The song recognises all the hot boys you'll notice in real life. At the supermarket, swimming pool, karaoke bar, on holiday, and (basically) everywhere you look. Even I'm noticing them all now, especially in the bathroom mirror.
Okay, so the song must at least be partly a swipe at all the testosterone-fuelled misogyny that fills shelves with crotch-thrusting albums. No matter Hibberd's sincerity, we get a great palm-muted verse with a keyboard hook and a breathy vocal followed by a great 'We Didn't Start The Fire' rhythmic pre-chorus.
The chorus has a half-beat / full beat switch that pumps it up and it's going to be amazing to see a room full of folks singing and bouncing along to this one.
There's hot boys in the supermarket
There's hot boys in the swimming pool
There's hot boys singing kareoke
They're playing all my favourite tunes

There's hot boys in the supermarket
There's hot boys in the swimming pool
There's hot boys singing kareoke
There's hot boys standing next to you
Viji supplies us with a classic list bridge, laying out our full calendar year of events.
Watch Lauran Hibberd and Viji – 'Hot Boys'.
What about Garageband Superstar?
Lauran's first full-length album arrives tomorrow (19th August 2022). It's only a day away. You'll be able to hear recent singles like 'That Was a Joke' and 'I'm Insecure' along with all the other good stuff when you wake up in the morning.
We've set our alarms for midnight, and, like you, we'll be listening to the album before we do anything else.
Written by Fenton on
Steve Fenton writes in our music, words, and culture categories. He was Editor in Chief for The Mag and covered live music for DV8 Magazine and Spill Magazine. He was often found in venues throughout the UK alongside ace-photographer, Mark Holloway. Steve is also a
technical writer and programmer
and writes
gothic fiction
. Steve studied Psychology at OSC, and Anarchy in the UK: A History of Punk from 1976-1978 at the University of Reading.
Discover More Music