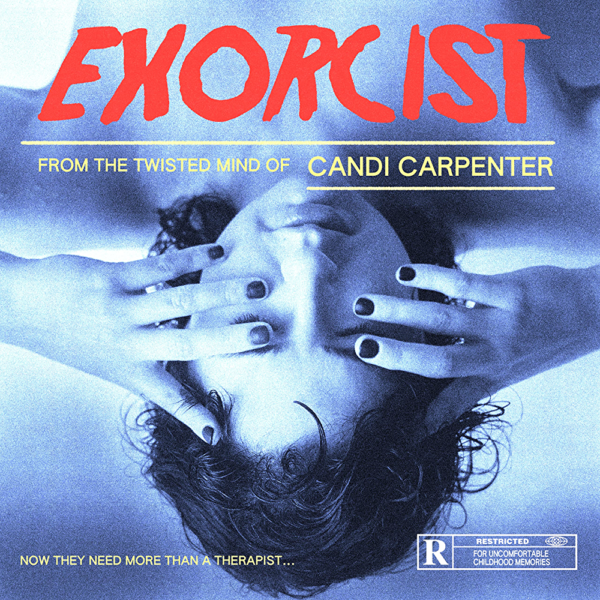 Candi Carpenter
Exorcist
Candi Carpenter's single 'Exorcist' is an acoustic storytelling masterpiece. There's much to unpack in this single, but let's start with the music and then wash away the layers to find the ancient bones beneath.
After a count-in, the song begins with a warm guitar motif accompanied by the hint of a background crowd. Morphing into the first muted strums of the verse, with Carpenter's voice mixing a pop melody with country edges. The pre-chorus gets open strums and a subtle warm keyboard. The chorus arrives with a restrained beat and a little fuzz around the edges.
The song is now set up, retaining the instrumentation into the second verse and building more richness into the sound as things flow into the longer variation of the chorus. Carpenter's voice soars higher, setting up a wonderful drop to an emotional couplet accompanied just by the keys and bass. After this, it's a reprise and an ending… and they you hit play again.
The song is a great pop-country crossover. It's like Brandi Carlisle with a touch of early Taylor Swift, all with a distinctly Candi Carpenter twist, with naked lyricism.
What is 'Exorcist' about?
The song is semi-autobiographical, like an MRI of growing up that provides a rapid series of the kinds of memories, experiences, and feelings that shape your insecurities.
The first verse very quickly unpacks the first set of thoughts. The lyrics are playful but earnest.
Is it blasphemy to have a sense of humour?
I picture my own funeral sometimes when I get bored
I think about my family sharing one fucked up computer
I used for playing solitaire and sometimes watching porn
The pre-chorus shivers with impact. This version appears only once, but it's incisive and lands weightily.
I always assumed I only liked boys, but now I'm not sure
And the first time anyone touched me, they didn't ask me first
The chorus is our anchor in this song, the premise being that therapy isn't sufficient to deal with all the memories, which need to be purged more forcefully. The lyrics play off the 1973 film, so you might get flashes of a demonically possessed child crab walking downstairs or priests leaping from high windows.
Now I need more than a therapist
I think I need an exorcist
It feels like my head is spinning around
I'm up on the ceiling, and I can't come down
Like its predecessor, the second verse provides further formative flashes.
I had a set of Bible story VHS tapes
My mother made me watch to balance out the other shows
And all the girls I knew from school were cool and dressing sexy
In their halter tops and clear lip gloss and Abercrombie clothes

The human mind is a bullshit time machine
You can travel back in time, but you can't change anything
The second chorus is extended with a section that really builds things up in preparation for the middle eight, which morphs into the refrain.
And I've gotta deal with my personal demons
It's not their fault they're up all night screaming
They didn't ask to be born, and neither did I

God, I feel like throwing up
I'm getting old, but I'm not growing up
So bring me a ladder and help me out
I'm up on the ceiling, and I can't come down
Carpenter's lyrics are pretty direct in this song, the subject is treated poetically and the delivery brings the emotion for the words to take flight. This is the make-or-break of a storytelling song and this is a great example of how to do it right.
Listen to Candi Carpenter – Exorcist.
Written by Fenton on
Steve Fenton writes in our music, words, and culture categories. He was Editor in Chief for The Mag and covered live music for DV8 Magazine and Spill Magazine. He was often found in venues throughout the UK alongside ace-photographer, Mark Holloway. Steve is also a
technical writer and programmer
and writes
gothic fiction
. Steve studied Psychology at OSC, and Anarchy in the UK: A History of Punk from 1976-1978 at the University of Reading.
Discover More Music