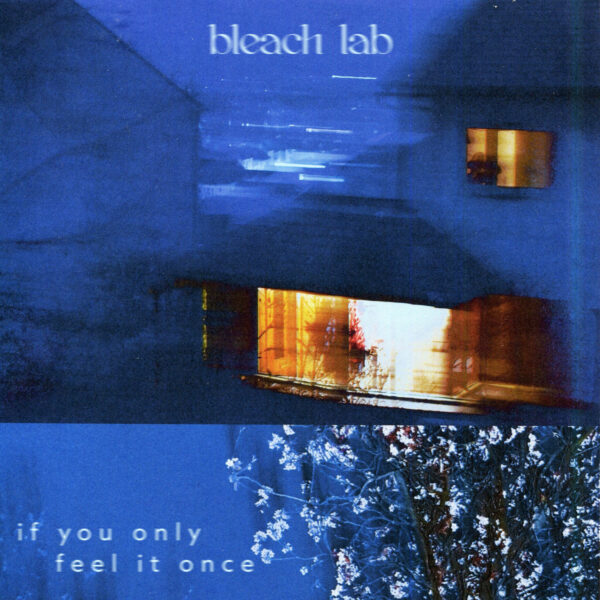 Bleach Lab
If You Only Feel It Once EP
Bleach Lab hail from Buckinghamshire originally, though I believe they are now based in South London. However, they have a talent for creating an indiefied dream-pop sound with an occasional country push in the melodies. They have a string of singles and a couple of EPs in the bag, and If You Only Feel It Once is a five-track demonstration of their most recent material.
It starts with 'I Could Be Your Safe Place', a song injected with a bouncy pace. It has guitar and bass that Smith and Gallup could have well inspired. The vocal is breathy on this track, making everything feel smooth and summery; a "laying in the long grass with a warm low sun" kind of song. Thematically, it's a love-sick track filled with longing, and it certainly has the feels for it.
Slowing things down a little, 'Take It Slow' – wait… I see what they did there – has a Pale Waves vibe, but with a softer sound. There's a neat line in this song, which I quite like: 'We're moving too fast, take it slow. You've been trying to fit the space of a shape that you don't know.' It feels somewhat like a sequel to the opening track, a feeling that deepens in the even more melancholy 'Pale Shade of Blue', which is the regret that laces the earlier hope of 'Safe Place'. You can taste the hurt in the shuffled beat and empty spaces.
Things warm up musically for 'Obviously', which begins with the ominous 'If you think it isn't about him, well it is!' Now convinced of the EP's narrative, we can see this is perhaps a grown-up and knowing version of a love song. It acknowledges the flaws and blemishes of a real relationship. Perhaps I'm too far down my rabbit hole to see the song independent of that opening trio.
And if it tears you up
If you question it
Does he still love her?
Obviously
All that remains is the title track, 'If You Only Feel It Once'. This song grows and develops from the early fade-in, through a really sparse verse, and onwards to a shimmering dreamy chorus. It's a well-wrought rendition with a melody that breaks into a beautiful higher register in the verse.
And you've been spending all your time
Finding somewhere that feels like home
And you wonder why you can't
Shake the fear of being alone
And the storms, they guide you back into the dark
And if you only feel it once
Is it enough?
This is a great EP. It simmers with tension and works nice lyrical twists into songs that slide through the emotions. It sounds great, and it remains so when you peel back the lyrics. Watch out for Bleach Lab if you like a bit of guitar-driven pop shine.
Watch Bleach Lab – If You Only Feel It Once.
Bleach Lab Articles
Discover More Music