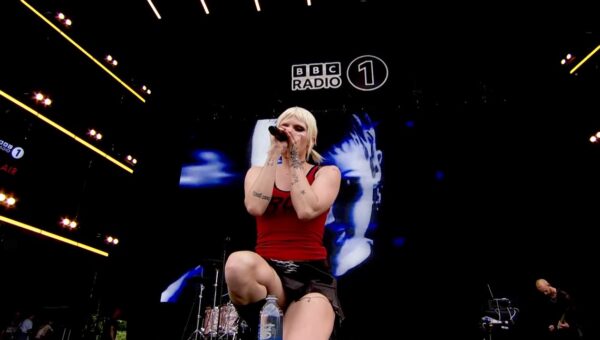 Cassyette
Live at BBC Radio 1 Big Weekend
Cassyette emerged with confidence on the Future Sounds stage at BBC Radio 1's Big Weekend in Dundee. This assuredness was backed by a solid melodic vocal performance, interspersed with raging screams.
It was pretty warm out, and I was glad to see I wasn't the only person present who opted for a trimmed-down 4-inch skirt. The danger, of course, is that it leaves the legs rather exposed, which for Casyette resulted in a stage injury. This only enhanced her rock credentials.
The setlist was a zip-up of songs from 2021 and 2022, with the most recent single 'Boom' getting the penultimate slot. The fans loved it and the folks who were experiencing it for the first time got to feel the shock when Brooking switched to the first visceral scream. Yes, the voice brings the full game.
In terms of the band, the drums and guitar smashed it, with minimal assistance from the backing track to thicken it up. The music sounded sharp-edged and brought the energy.
The set ended on 'Petrichor', pretty much the canonical Cassyette track with a memory-imprinting riff, soaring chorus, and big screams. The final notes of 'I wanna be reborn' made sure the set would be burned with permanence on the myriad excited brains watching on.
This set felt super short. The Future Sounds sets were all in the region of 30 minutes, but it genuinely felt like 10 with the songs whipping by in a flurry.
Cassyette – BBC Radio 1 Big Weekend Setlist
Like That
Dear Goth
September Rain
Mayhem
Sad Girl Summer
Dead Roses
Boom
Petrichor
Discover More Music