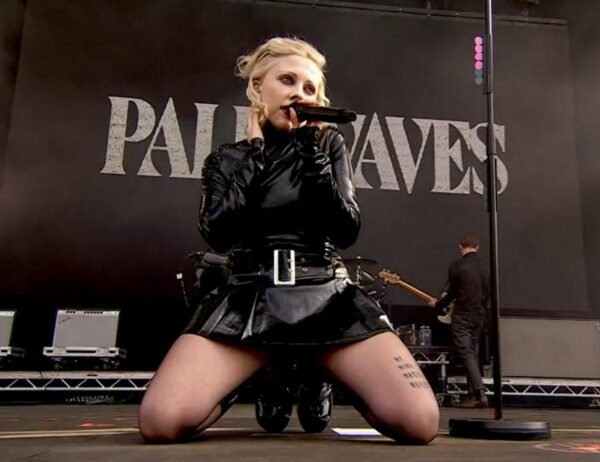 Pale Waves -Live at BBC Radio 1 Big Weekend
Pale Waves have so many great songs to bring to the stage, it's almost certain one of the sun-drenched fans surrounding me are going to get upset when something is missed out.
But, this is Radio 1s Big Weekend and there's a ton of music to get through, so we're looking at about half an hour of Pale Waves, so we have to make do with the abridged version today. After an intro, the screens go blank and we're about to get going.
The first line of 'Lies' is crowd only as the folks in the sound booth scramble to get the microphone turned up, but the band play straight through this problem (and an on-stage sound issue). They settle in during 'You're So Vain' and then we're into a couple of classics.
The delivery is excellent, though someone on my left has either been given a microphone or is just desperate to prove their devotion during 'Television Romance'. They did a pretty good job, but they need to work on the vocal push if they want to hit those HBC delights. The song sounds great and the fan/backing singer swoons as 'Eighteen' comes up next.
Discarding the Vox Phantom, Heather roams the stage for 'Fall to Pieces'. How anyone can stride about in those boots is a mystery – but this is a talented band. We're into an emotional rendition of the anthemic 'She's My Religion' next… and even I'm singing along now. 'She's cold, she's dark, she's cynical… forever angry at the world'. Aren't I supposed to be impartial? I've failed.
There's nothing for it as 'There's a Honey' puts me into full fan mode. Just listen to that hi-hat work, it's wondrous. This song is thick and rich like its namesake and it sounds great.
There's just time for the riffs of 'Jealousy' and then Pale Waves are gone from the stage. What a great set, though they didn't play 'Drive', 'The Tide', or 'The Hard Way'… oh no – it's me that's doing it now.
Pale Waves – BBC Radio 1 Big Weekend Setlist
Lies
You're So Vain
Television Romance
Eighteen
Fall to Pieces
She's My Religion
There's a Honey
Jealousy
BBC Radio 1 Big Weekend Articles
Discover More Music