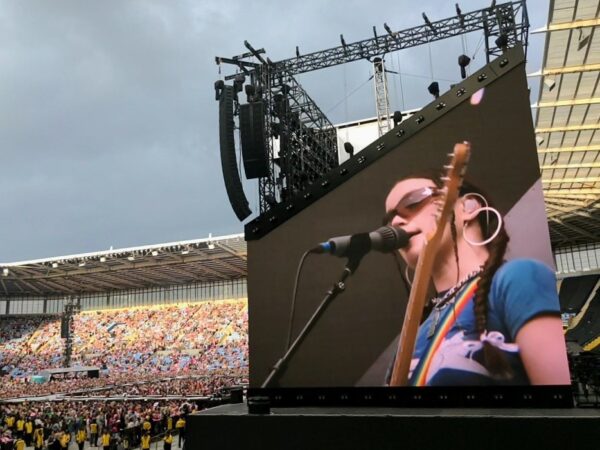 Wet Leg
Live at Coventry Arena
Lets start by addressing the fact that this show was part of Harry Styles' Love on Tour, pretty much a pop-gold stardom extravaganza that has been making its way around the world for some time now. Suffice to say, Harry did a splendid job – not just musically and as a spectacle, but by creating a steady stream of overwhelmed fans for the paramedics to fan down over to our left.
The sole support were your favourites and ours, Wet Leg. Stepping out into the sunshine, though the sky developed a majestic grey threat, we got to hear their now much-loved songs with the benefit of arena-sized reverberation.
There was a flurry of wildlife evacuation as pigeons and wagtails noped out of the Coventry Arena. This was followed by another flurry, this time featuring 'Being in Love', 'Chaise Longe', 'Wet Dream', and 'Too Late Now'… all super-sized thanks to the sound bouncing round those big glassy curves.
Though this was their first stadium-sized gig in the UK, Wet Leg have a ton of big-stage experience from all those festivals they've been playing around the world, including other legs of the Love on Tour tour.
Despite having a long-player filled with classics, the song that brought the chills and assualted the eyes like a hand that just chopped up chillis… was the unreleased stunner, 'Obvious'. If you're old enough to remember Drugstore, this emotional electric-guitar led swayer will bring back some glorious memories.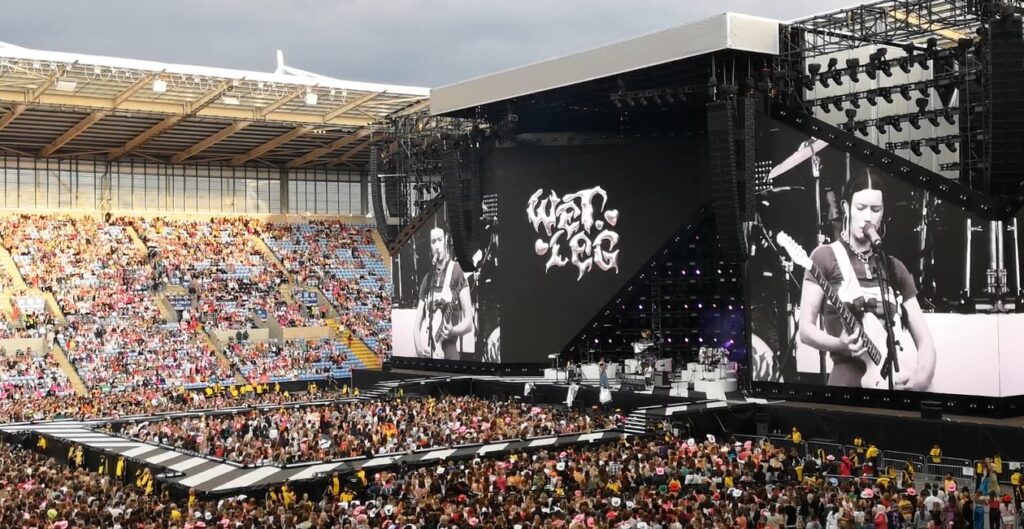 There are three distinct movements to this one and they've changed since the song first emerged. There's a guitar/vocal storyteller for the most part, with a middle-section that casts an angelic vocal solo out into a surprised crowd. It then gets the feeling of building, which manifests into a powerful pounding final third, dropping into a synth echo of the vocal solo (the synth part was originally used both times, with the vocal added and then becoming solo).
Wet Leg have done an amazing job of winning us all over with their debut. I'd buy their sophomore album on the stength of 'Obvious' alone. Let's hope they don't keep us waiting too long (though where they'll find time to get into a studio with the epic touring schedule… I simply don't know).
Written by Fenton on
Steve Fenton writes in our music, words, and culture categories. He was Editor in Chief for The Mag and covered live music for DV8 Magazine and Spill Magazine. He was often found in venues throughout the UK alongside ace-photographer, Mark Holloway. Steve is also a
technical writer and programmer
and writes
gothic fiction
. Steve studied Psychology at OSC, and Anarchy in the UK: A History of Punk from 1976-1978 at the University of Reading.
Discover More Music