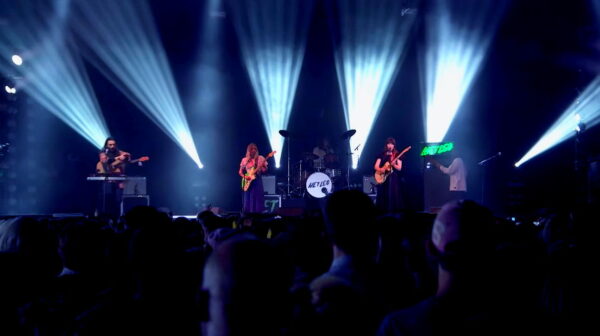 Wet Leg
Live at Isle of Wight Festival
Playing a festival on home turf, Wet Leg delivered a set worthy of their #1 smash album. We also heard a rumour that their next album is ready, but we didn't manage to get hold of any scoops – so we're waiting to find out more, just like you.
The five-piece line-up let the songs loose on an enthusiastic bunch of fans (and some family members) in the Big Top. Full-bodied, crisp, and clear. Having just one album was no hindrance to their almost hour-long set because all the songs on Wet Leg LP are good enough to be included. Only 'Loving You' seemed to be absent, making way for some songs from the extended edition and something completely new.
It's so nice to play a show where we can go back to our own beds at night!

Rhian Teasdale
They played a set packed full of songs, so there was little chat in between. There was a brief conversation with mum and a quick happy 70th birthday to one of the dads; otherwise, it was music from edge to edge. All the hits came across well, 'Wet Dream', 'Oh No', and 'Too late Now' all landing on two feet, arms outstretched, a full ten marks.
'I Wanna Be Abducted by a UFO' got an impressive gutsy unhinged intro, and the sparkle of (possibly) 'I Don't Mind' washed through the room.
Time flew by, and before you knew it, they had banged out a fast version of 'Chaise Longue'. Then it was over, Rhian and Hester walking off stage in each other's arms and crew members descending on the stage to tear it all down. All that was left was the pure buzz of such an energising set.
My take on Wet Leg is that they are stunning to hear live, so check out their listings to catch them in the UK before they head to Australia and America.
Setlist
Here's the full setlist from Wet Leg's Isle of Wight appearance, 2022. Some tracks are shown with a provisional title; sometimes, you have to guess when there's cool new stuff!
Being in Love
Convincing
Wet Dream
Supermarket
Piece of Shit
It's Not Fun
Ur Mum
I Don't Mind
Oh No
I Don't Wanna Go Out
Too Late Now
I Wanna Be Abducted by a UFO
Angelica
Chaise Longue
Written by Fenton on
Steve Fenton writes in our music, words, and culture categories. He was Editor in Chief for The Mag and covered live music for DV8 Magazine and Spill Magazine. He was often found in venues throughout the UK alongside ace-photographer, Mark Holloway. Steve is also a
technical writer and programmer
and writes
gothic fiction
. Steve studied Psychology at OSC, and Anarchy in the UK: A History of Punk from 1976-1978 at the University of Reading.
Discover More Music