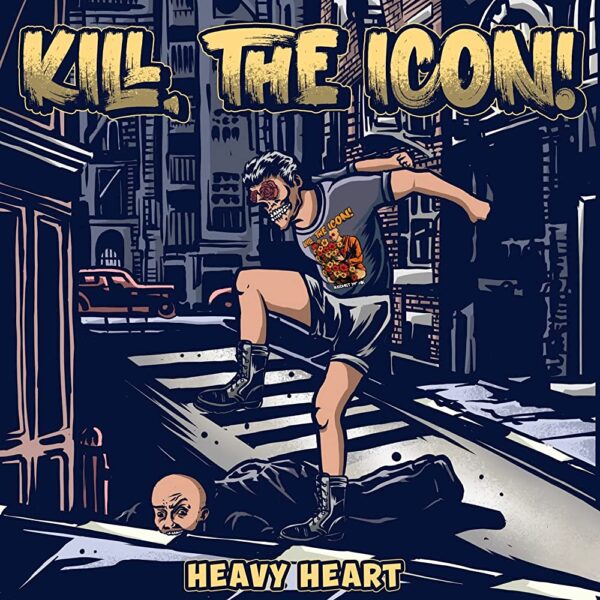 Kill The Icon
Heavy Heart
With a self-branded synth-punk sound, Kill The Icon have hooky songs that smuggle biting lyrics. 'Heavy Heart' is the latest single, so let's open the cage and see what lied beneath the disco-beat and fuzzy keys.
The song opens with the hypnotic beat, fuzzy bass and the repetition of: 'They used to sing it with a Hard R, now they say it with a heavy heart'. The references are veiled, but the song is a commentary on anti-facism in moden Britain.
The song has a new-wave flavour, with a hint of Bauhaus sprinkled in. It's danceable, eclectic, and highly likeable, with those lyrics subtly pushing substance.
They used to make us dig our own shallow graves
Under your family's country's estate!
Politicians spoke and we obeyed
Used to
starve us til we withered away
Flip-side, 'Protect the Brand', has more grind. It's a little slower, using pace to match the lyrical theme of boring work. The chorus is thick and heavy, though the vocal has been given plenty of space to cut through the fuzzy instrumentation.
The song, loosely based on David Fincher's Fight Club, is viewed through the lens of an overworked and underpaid office worker who is tasked with mind-numbing, repetitive jobs until he finally engineers his own sacking. The Worker stumbles through a crisis of realization, as he starts to question the purpose of work within a capitalist framework.
Sonically, these two songs fit neatly with previous single, 'Bourdain', and their debut, 'Buddhist Monk' (a tribute to Thich Quang Duc). We now have a reasonable showcase of some of the different manifestations of their sound and their lyrical themes.
Kill The Icon seem impressive so far. Their singles have punch, fuzz, and nip at you with sharp teeth.
Watch Kill The Icon – 'Protect the Brand'.
Kill The Icon Articles
Written by Fenton on
Steve Fenton writes in our music, words, and culture categories. He was Editor in Chief for The Mag and covered live music for DV8 Magazine and Spill Magazine. He was often found in venues throughout the UK alongside ace-photographer, Mark Holloway. Steve is also a
technical writer and programmer
and writes
gothic fiction
. Steve studied Psychology at OSC, and Anarchy in the UK: A History of Punk from 1976-1978 at the University of Reading.
Discover More Music