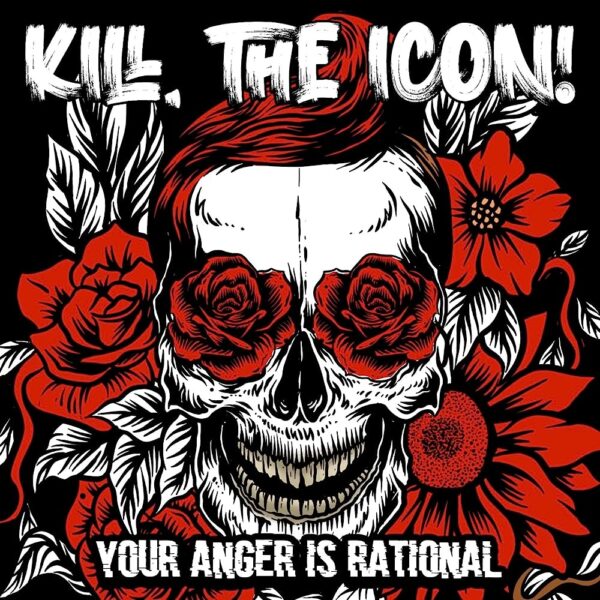 Kill The Icon
Your Anger Is Rational EP
Kill The Icon are synth-punk band with seriously angular lyricism steeped in protest. Like many of their social and political punk forebears, KTI combines fuzz and punch with defiant challenges.
The EP opens with 'Heavy Heart', the pumping disco-punk anti-fascist commentary. The song is seriously hooky, but the words have claws. Things switch into the more bass-fuzz driven 'Deathwish' with its powerful reflection on how racism manages to keep resurfacing in Britain.
'Danny Is A Hate Preacher' opens with the drums and adds chunky bass. The song's theme 'speaks to the generational nature of trauma, hatred, and racism', with Danny growing up in a loveless family that nevertheless indoctrinates Danny with their narrow views, ensuring he becomes just as hateful as his father.
Corporations and capitalism are next in the firing line in 'Protect The Brand', and the music manages to conjure the distraught human production line of the cubicle farms. 'Protect the brand with all your might. Protect the brand. Just do it, alright.' I love the gritty drive of this song.
'Bourdain' takes the penultimate slot. This song has a little more guitar but keeps that thick fuzzy low end. The synth swirls around in the chorus, creating a dizzy feeling that echoes the lyrics.
It all ends with 'All The Ugly Things', originally by Bambara. The song has the feel of early punk, the stuff with rock and roll edges like The Buzzcocks – but it gets modified towards the fuzzy new wave punk sound of Kill The Icon.
As a whole, the EP delivers a really well-honed sound and provides an outlet for the out-and-out kakistocracy of Johnsonian England. In the words of Kill The Icon:
The tracks paint a portrait of some of the power structures that underpin the UK, in particular the relationship between a complex past and a present-day that involves elements of fascism that serve to marginalize certain communities.
This record is definitely worth your time, so give it a listen. You can get the EP on Bandcamp.
Watch Kill The Icon – 'Heavy Heart'.
Kill The Icon Articles
Written by Fenton on
Steve Fenton writes in our music, words, and culture categories. He was Editor in Chief for The Mag and covered live music for DV8 Magazine and Spill Magazine. He was often found in venues throughout the UK alongside ace-photographer, Mark Holloway. Steve is also a
technical writer and programmer
and writes
gothic fiction
. Steve studied Psychology at OSC, and Anarchy in the UK: A History of Punk from 1976-1978 at the University of Reading.
Discover More Music