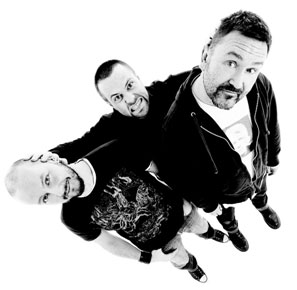 Therapy?
Live
Returning from their year-long break with an album as good as Crooked Timber has ensured that Therapy have sold all available tickets so far on their tour, and the show at the O2 Academy in Islington was no exception.
Starting with 'I Told You I Was Ill', Therapy? burst through three tracks from their recent album, which sounded even heavier live than on the record, with the bass guitar tearing through the room and the guitar sounding like the strings were made out of steel cables.
After an equally chunky rendition of 'Unbeliever', it was back to new territory, with 'Exiles' stepping up to change the contrast of the set – and sounding utterly stunning. The band really seemed to have warmed up at this point and the performance just kept getting better.
Alternating from old to new, the crowd were treated to 'If It Kills Me' followed by 'Somnabulist', before diving into 'Teethgrinder' and 'Potato Junkie', at which point the crush of bodies took over the vocals.
'The Head That Tried To Strangle Itself' brought things back to the rhythmic new material that brought the set to close on 'Crooked Timber', which is released on the 18th of May.
There was no chance that Therapy were going to get away without an encore and the dash through kicked off with the instrumental 'Magic Mountain' before heading into Troublegum and Infernal Love classics.
Without the liberty of having a ten-hour set, it's impossible to play them all, but with the new material sounding so good it didn't matter. Therapy are most definitely back on the touring circuit, so catch them live in case they take another break!
Written by Fenton on
Steve Fenton writes in our music, words, and culture categories. He was Editor in Chief for The Mag and covered live music for DV8 Magazine and Spill Magazine. He was often found in venues throughout the UK alongside ace-photographer, Mark Holloway. Steve is also a
technical writer and programmer
and writes
gothic fiction
. Steve studied Psychology at OSC, and Anarchy in the UK: A History of Punk from 1976-1978 at the University of Reading.
Discover More Music