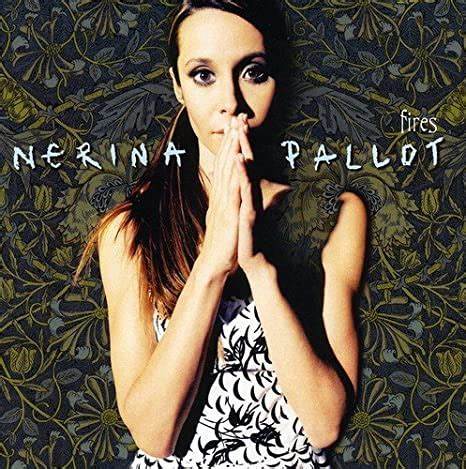 Nerina Pallot
Fires LP
I'm going to level with you. I have MTV. I have The Box. I even sometimes stray over to VH1 and earlier this year, every time I went channel surfing I heard 'Everybody's Gone to War'. I hated it. This clunky, Avril-lite 'protest' song (itself a war crime) was the main reason that when Nerina Pallot's album arrived in the post it was put to the bottom of the pile marked 'for review'. This is where it stayed, below German punk metal, Irish Beatlesy pop, and even a blank cdr, but eventually today it made it out of the case and into the CD player and…
…it's actually brilliant. It was so good, in fact, that I had to stop what I was doing and listen to it again, properly. On the evidence of 'that record' I was expecting more of the same sappy, overwrought stuff but was more than happy to find in its place a classy set of piano-led songs in the vein of Joni Mitchell and Rufus Wainwright. Clearly, Ms Pallot's classical education has come to the fore here as jazzy vignettes mingle with lovelorn ballads and at times even wanders into Tori Amos territory.
Opener 'Damascus' sets on a road marked Melua (the vocal delivery at times is uncanny) before flourishing into a wonderful almost jazzy piece. Pallot's voice, at once brittle and satisfying, tender and brassy, carries all of her tracks here from simple songwriter fare to chart goosing hymns.
While clearly at home in a stripped-back setting with just a piano for company, Pallot has tastefully gone to the palette (sorry couldn't help it) to add sparse violins and electric guitars to give splashes of colour to her monochrome tales of isolation and confusion.
To say that this album is coffee table would be to damn it with faint praise as it demands more attention than just dinner party ubiquity would afford it, but when left in the background the album can't help but hang around the old grey matter for hours after. It should also be noted, though, that there are occasions where, as if to wrench attention back, Pallot is unafraid to throw in all kinds of atonal patterns and dissonant, circular piano lines to engage the listener back to the song.
You can't really discuss the album without mentioning 'that single' and it is fair to say that it is more than a sore thumb – its more of a gangrenous leg. It just doesn't fit. I really can't understand why, when presented with such an accomplished set of personal tender songs, the record company decided to centre in on such a dumb lightweight song dealing in five and dime politics when it's clear that Ms Pallot has so much more to offer the world. I've been thinking all day and the only war song I've heard worse than the one here is that one Culture Club did!
But then such tracks are what the skip button was designed for and so I can happily report that a little while after she came to live, Nerina Pallot has finally made herself at home round these parts with a classy debut that I might not be so keen to leave in my girlfriends' car after all.
Nerina Pallot's new singe, 'Sophia', is released on 2 October 2006
Guest article from Ben M.
Watch Nerina Pallot – Sophia
Nerina Pallot Articles
Written by Guest Writers on
Between 2003 and 2009, [the-mag] had regular contributors from music correspondents covering their local scene. You'll find them all in the guest writers section. The specific writer is mentioned at the bottom of each article.
Discover More Music