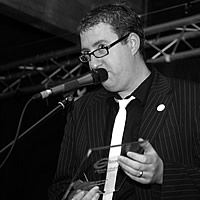 Dlugokecki
Live
When you attend a live performance several hundred feet above the ground in a glass fronted tower, you can't help but feel that this type of gig doesn't happen very often. On this occasion though, the Spinnaker Tower show follows on from performances on the Mersey ferry, Blackpool Tower and Stonehenge and the next gig is on the top of Mount Snowdon.
As it happens, the special locations are merely a reflection of the rather special talents on offer and those people that want to keep Stonehenge secret from the world will gladly notice that their scattering of rocks are playing second fiddle to this unique tour.
With the sun blasting in through the massive windows, Ben Dlugokecki and Andy Wilde supplied a radiant set to rival it, showing off songs with piano and guitar that we already know from stunning full band versions and making them sound excellent despite missing the band members that they couldn't fit in their camper.
Inspired by the surroundings ( for those not in the know, the Spinnaker Tower provides a spectacular view of 1600 square miles of coast, city and water) a spontaneous rendition of 'Oceans' paid tribute to the waves shimmering quite some distance beneath.
A bubbling version of 'Perfectionistical' finished the show and signalled the end of the penultimate high-altitude show, in which none of the emergency oxygen supplies had been required.
The 'How Do You Do' tour hits Mount Snowdon on the 11th, followed by two shows at Southampton's Talking Heads on the 25th with Nizlopi and 26th with ex-Inspiral Carpets man Tom Hingley.
Written by Fenton on
Steve Fenton writes in our music, words, and culture categories. He was Editor in Chief for The Mag and covered live music for DV8 Magazine and Spill Magazine. He was often found in venues throughout the UK alongside ace-photographer, Mark Holloway. Steve is also a
technical writer and programmer
and writes
gothic fiction
. Steve studied Psychology at OSC, and Anarchy in the UK: A History of Punk from 1976-1978 at the University of Reading.
Discover More Music