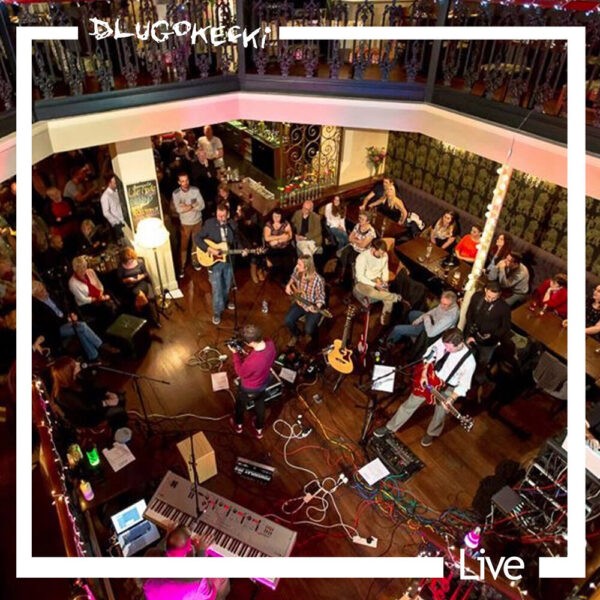 Dlugokecki
Live LP
With a whopping sixteen stunners gathered together in one album, this live recording gives us an authentic Dlugokecki experience. Ben's vocal is, no doubt, an instantly recognisable signature. It's a folksy Paul Simon meets Damien Rice, hits every note, and packs emotion into each line. Backed by such a talented band, it's kinda hard to tell this is recorded live. Most bands would be happy to exit the studio with a crisp and clean recording such as this tucked into their back pocket.
Although this is a 2020 release, it's an archive recording from 2014, recorded at The Vestry in Southampton – formerly a church, then a Joe Daflos, now a bar and restaurant. The album cover is an overhead shot from the mezzanine, showing the band playing in the centre with the audience arranged around them within the space. An intimate and casual setting that obviously has good enough acoustics to capture the performance.
The songs will be familiar to Dlugokecki fans. A mixture of slower reflective songs, with gentle accompaniment and a few acoustic pop belters like 'Howitzer', where the band gets into full swing. There are notable exceptions, 'Belted in Safely' and 'Set in Stone' are big songs to leave off the playlist… but come on; there's already sixteen songs in here and you can't please everyone. At any rate, 'Perfectionistical' comes home at last, the ecclesiastical gospel soul landing in the repurposed church with unapologetic bounce.
This live album is a great reminiscence of Dlugokecki, which for contrast can be played right before their 2019 studio album, Come Find Us. You'll find many similarities, but also quite a lot of changes. This is a band that has maintained a certain thread at their core despite different approaches to the song-writing.
Discover More Music