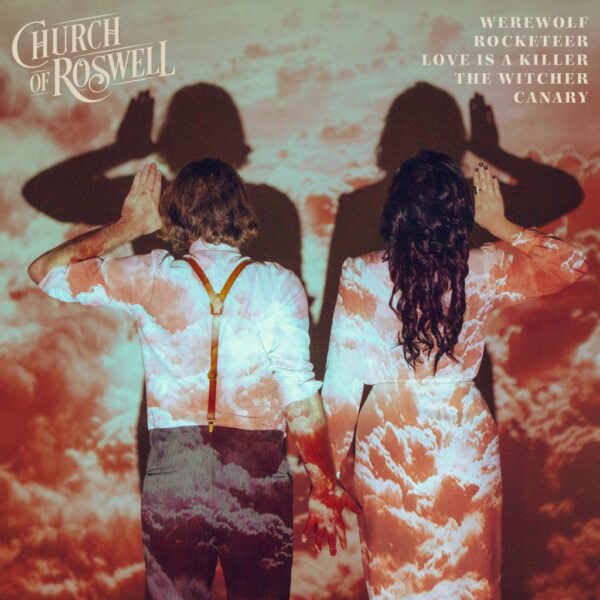 Church of Roswell
Here Comes… EP
Church of Roswell have announced that their debut EP will be released on April 1st, 2021. Titled Here Comes… Church of Roswell addressed the name and date in a live stream on Instagram last weekend.
The EP brings us three new songs to accompany the brilliant singles The Witcher and Rocketeer, which we've already heard, discussed, and played on repeat since they were released. 'Werewolf' is fresh and bright, lyrically on-theme and with a choral interplay that leads into the brilliantly recognisable melodic howls. Carpenter and Doyle trade verses and merge at the end of each chorus. Musically rich and lyrically playful, we love this track.
After the positive anthem of 'Rocketeer', the rolling folksy 'Love Is a Killer' supplies a sound like a modern take on The Seekers. The song builds the chorus up each time, and the melodic twist has come from somewhere else entirely. After the richness of the final chorus, it's a perfect segue into 'The Witcher' with its rolling bounce and massive vocals.
The EP finishes with the haunting 'Canary', the most county-fied of the songs on this collection. The metaphor plays out through a beautiful sweet melody and rich harmonies. It's melancholy but rich and vivid. It's a great way to round off the record.
There is something special about a band who can be playful and light like Church of Roswell, their satirical alien/cult persona and fantastic videos bring a great deal of fun. When it comes to the music, though, they are serious about what they do and the talent is absolutely top drawer.
Here Comes… Church of Roswell.
Watch Church of Roswell – National Milk Day
Written by Fenton on
Steve Fenton writes in our music, words, and culture categories. He was Editor in Chief for The Mag and covered live music for DV8 Magazine and Spill Magazine. He was often found in venues throughout the UK alongside ace-photographer, Mark Holloway. Steve is also a
technical writer and programmer
and writes
gothic fiction
. Steve studied Psychology at OSC, and Anarchy in the UK: A History of Punk from 1976-1978 at the University of Reading.
Discover More Music