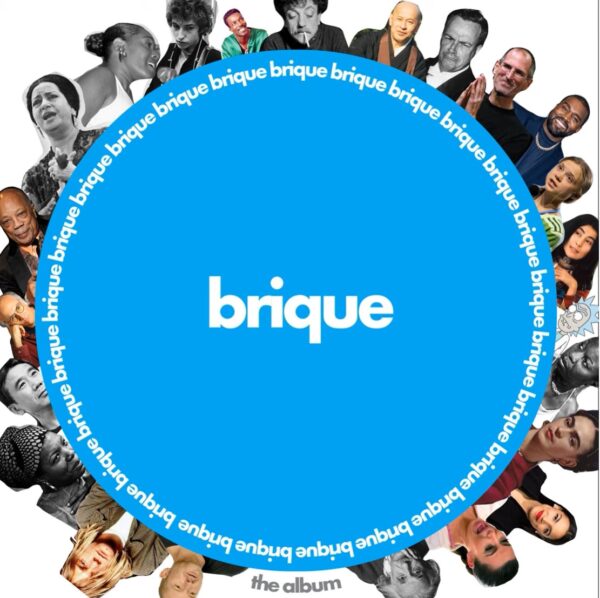 Brique
3×2
Taken from their album, The Album, '3×2' is a glimpse into the unusual lounge-trip sound of Brique, which the band committed to record last year in part via Zoom.
The very core of their sound is mass-fusion of styles, as evidenced by their album cover, where they conveniently placed them all. Let's try and break it down. It's a soulful lounge start, with floaty guitars and a trebly bass tone. It's pleasant and tuneful. The kicker, though, comes a third through when the drums kick in and the samples squeeze some secret sauce onto the song as it further transitions with temp changes and an instrumental section. It pops out in the final third with a hybrid of all the preceding parts, reworking the start of the song with the vibe of the middle third.
If you found a tape from this band in an attic, you might think you'd found an experimental session from George Harrison, which Lennon had added samples to. The beat, though, is distinctly Bristolsound and the fuzzy tones towards the end are more Pavement than Beatles.
This is an eclectic song for sure, but the beauty is in the triptych arrangement.
Watch Brique – 3×2
Written by Fenton on
Steve Fenton writes in our music, words, and culture categories. He was Editor in Chief for The Mag and covered live music for DV8 Magazine and Spill Magazine. He was often found in venues throughout the UK alongside ace-photographer, Mark Holloway. Steve is also a
technical writer and programmer
and writes
gothic fiction
. Steve studied Psychology at OSC, and Anarchy in the UK: A History of Punk from 1976-1978 at the University of Reading.
Discover More Music