On the 19th July 2008, we took over legendary Southampton music venue, The Talking Heads, for the second time and delivered an award show that recognised the amazing unsigned and independent talent we had discovered over the previous twelve months.
Billed under our name at the time, The Mag, and sponsored by Original 106 FM (home of Xan Philips, who promoted new bands on his radio show), the award show featured performances from some of the winners as well as the awards themselves. Twelve years later, we thought we'd take a brief glance back at the bands and the music that made the night so special.
The Mag Awards 2008 Winners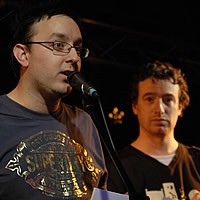 Discover the Artists
Just like the 2007 award show, sponsored by Jägermeister, the show was amazing because of the bands. We have searched out some content to share their music with you below.
The Dawn Chorus, a wonderful indie/folk band with a huge warm sound have defeated us in our search, which mainly yielded 14 million recording of birds. Please hit us up on social if you can track them down.
Dlugokecki picked up the best live act, which isn't surprising to anyone who has heard them live.
Idiot3 launched their new EP at the show, playing all the tracks back-to-back. They also picked up the best band award.
Richie Madisun supplied walk-on music for all the winners, except for himself as we surprised him with a best solo-artist award.
Plastic Toys picked up the best website award.
And finally, leaving us all awestruck, The Delays picked up a writers' choice award.