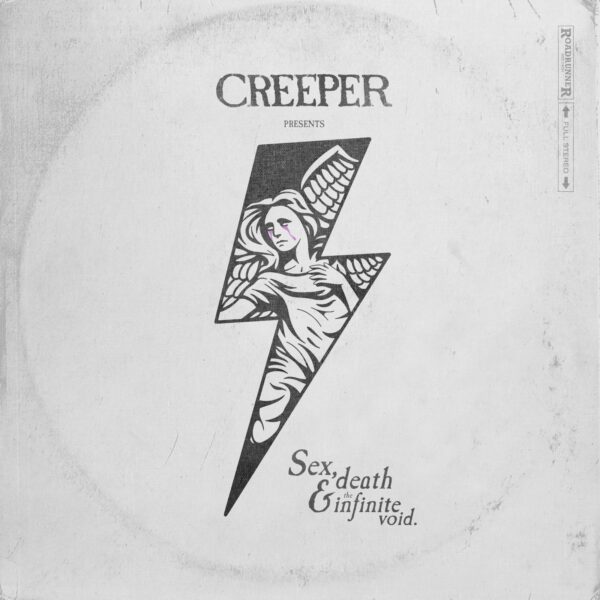 Creeper
Sex, Death, and The Infinite Void LP
Creeper's enigmatic demise and rebirth will make a tidy and legendary entry in the rock and roll history books, but none of this matters when you drop the big plastic circle onto the record player. What matters is the epic bounce and switch that this album delivers.
The record is definitely a whole-package experience. Spoken word interludes and thematic sections create a substantially impactful whole from a varied scattering of sounds and styles.
Songs such as 'Be My End', 'Napalm Girl', and 'Born Cold' represent the more contemporary sounding tracks. These are the likely choices for singles and will no doubt become fan favourites. This is where the AFI and Alkaline Trio references come from, but on this album, that's only part of a much bigger story.
The unexpectedly delightful second sound to scooch across and take over the record is the nineties squeeze of 'Cyanide' and 'Annabelle'. Creeper manage to make the transition effortless, so as you'd hardly notice, but there's definitely a new flavor here and we begin to suspect the chef has been up to something oddball and creative in the kitchen.
The evolving style continues with a dark take on classic American influences. This layer is occupied by 'Black Moon', 'Paradise', 'Four Years Ago', and 'Poisoned Heart'. There's everything from a sixties folk sound, to a bluesy ambience that comes as a complete surprise.
The real miracle of this record is Creeper's ability to pull it all together into a coherent dish, which, astonishingly, they achieve with aplomb.
For the uninitiated, you can expect something like a twisted union of punk and Goth rock, with a glam and alt-rock edge, and off-beat flickers. Something like My Chemical Romance having a group hug with Suede… and then they find Nick Cave is being crushed in the middle.
Written by Fenton on
Steve Fenton writes in our music, words, and culture categories. He was Editor in Chief for The Mag and covered live music for DV8 Magazine and Spill Magazine. He was often found in venues throughout the UK alongside ace-photographer, Mark Holloway. Steve is also a
technical writer and programmer
and writes
gothic fiction
. Steve studied Psychology at OSC, and Anarchy in the UK: A History of Punk from 1976-1978 at the University of Reading.
Discover More Music