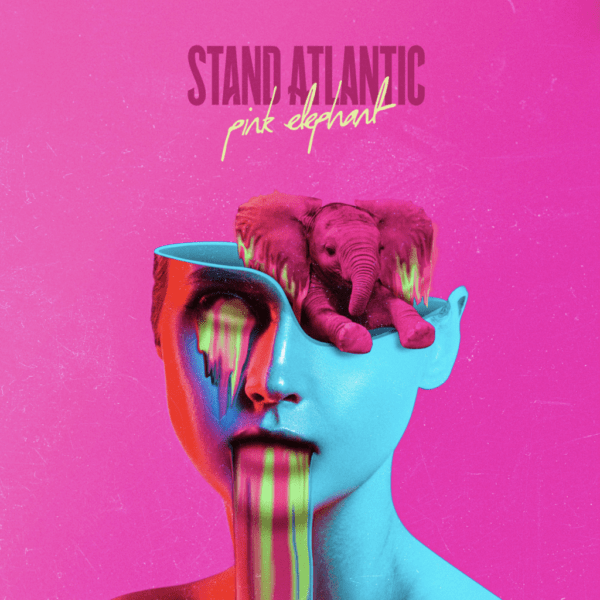 Stand Atlantic
Pink Elephant LP
This second offering from Australian pop/punk band Stand Atlantic tears up the playbook with a collection of surprising variety and maturity.
There are a few classic set-ups for the construction of an album. Commonly, you front-load the record with three big numbers and accept it may tail off afterwards. This seems to be the order of the day after the stomping 'Like That', the epic bounce of 'Shh!', and the dark push of 'Blurry'. However, the formula is discarded as the quality just keeps coming with the playful 'Jurassic Park' and the eccentric 'Eviligo'.
These are, no doubt, real gems musically. Lyrically, though, the abstract artistry of the words is pretty special. Veiled references abound, but this presents an opportunity for the listener to bend each phrase to their own problems.
Finding myself dangerously close to gushing, 'Wavelength' gives me a sharp shove with its jittering rhythm and throbbing chorus. 'Drink to Drown' gives us a moment of pause with its emo piano stillness, though it's still a grand tune. The engine is fired back up for 'DWYW', another anthemic offering that gives way to the reflective 'Silk & Satin'.
Final brace, 'Soap' and 'Hate Me (Sometimes)' could have been album openers, but instead propel us over the finishing line, which inevitably becomes the starting line as the album demands to be re-played.
If you needed to create a perfect rock triptych, Brand New eyes and White Noise would be perfect bookends for Pink Elephant, which could confidently claim that middle spot with its vibrant anthemic collection.
Watch Stand Atlantic – Hate Me (Sometimes)
Written by Smith on
Stuart 'Saur' Smith was a prolific writer for The Mag throughout the magazine's lifetime. He combined a day job of temporary office jobs in London with a nightlife of trawling the capital's music venues looking for talent. As well as writing about music, he was a session musician who featured on a number of singles in the 90s. Today, Stuart is a Chief Writer for Phonotonal.
Discover More Music